Kind act in bad weather leads to proposal to ease road congestion
Beijing - Wang Yong was driving through the rain one night when he saw a woman without an umbrella being splashed by speeding cars.
What he did next was a simple act that set him off on a decade-long journey.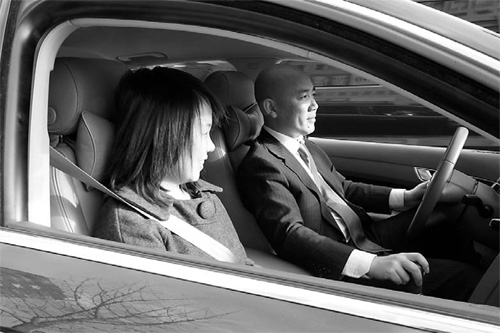 Wang Yong offers a free ride to others at Zhongguancun, Haidian district, Beijing, on Monday afternoon. [China Daily] 
He stopped and gave her a ride.
"She had this very grateful, unforgettable look on her face," Wang said.
The lady was in her late 60s and even repeatedly apologized to Wang for getting his car seats wet.
When Wang dropped her off at her home, her son thanked him for his kindness, saying the gesture of a minute would provide a lifelong warmth for others.
It was a prophecy come true.
In the years since that rainy night on Beijing's Beiwa Road in 1998, Wang has offered free rides to more than 10,000 people in the capital.
And the 36-year-old Beijing businessman has made it his personal mission to help cut the growing congestion on the city's roads by 30 percent, as an alternative to traffic restrictions and fees.
"Sharing is a natural act. It's simple," Wang said.
"Why not share the things I already have with people who are in need?"
As a member of the All-China Youth Federation, Wang is also urging authorities to sanction car pooling, and has submitted his proposal to a member of the Beijing Municipal Committee of the Chinese People's Political Consultative Conference.
Every morning at the stop for the No 344 bus in Huilongguan, Changping district, he offers people a free ride in his car.
He knows that people waiting for the No 344 bus, which links Huilongguan and Zhongguancun, where his company is, will probably be on his route.
Although Wang is called the "initiator of car pooling" by most Chinese netizens, free rides have been practiced in many countries for some time.
Car pooling has been popular in both Europe and the United States for decades. The local authorities in some other countries even encourage the practice with preferential policies.
In China, traffic congestion has remained a headache for most big cities. Beijing has imposed traffic restrictions since the 2008 Olympic Games; Guangzhou, capital of Guangdong province, plans to introduce a congestion tax; and Shanghai restricts the number of license plates, which sold for an average of 38,600 yuan ($5,600) this February.
According to data from the Asian Manufacturing Association, China will have 70 million vehicles this year, constituting 7 percent of the world's total. Vehicles are also responsible for more than 17 percent of carbon dioxide emissions worldwide.
"If you want to cut 30 percent of the number of cars on the road, car pooling is the best way to do it," Wang said.
Wang has been watching cars every morning at the Huilongguan tollbooth for the last five years.
"I look into 500 or 1,000 passing cars every morning. It's not difficult. It takes only 15 or 20 minutes. I count and write the number of cars carrying only one person. Based on my notes, 80 percent of the vehicles on the road are cars and about 80 percent of the cars do not have passengers," Wang said.
As a result, about 64 percent of the vehicles on the road are carrying only one person, Wang said.
"Several years ago, as Beijing's traffic jams became more and more serious, I began to think that if only 20 percent of owners car pooled, the number of cars would drop sharply," Wang said.
But car sharing is not that easy for Chinese people.
When Wang tries to offer people free rides, he gets countless rejections. Most refuse to get in his car because they think he is trying to cheat them.
Once, Wang persuaded a beggar to get into his car.
"Immediately after he sat down, the beggar told me I could do whatever I wanted to him as he had no money," Wang said, laughing.
"People say I must be mad, but I just want to convince more people to car pool."
Wang says he is happy that he and his Mercedes-Benz - one of four vehicles he owns - even played the role of matchmaker once.
Two years ago, a newlywed couple got into Wang's car. They told him they had met and struck up a conversation several years ago as he was giving them a ride. They had exchanged numbers and eventually married.
Afterward they had gone to the bus stop every morning, waiting to run into him so they could thank him.
Jiang Xiao, an Internet analyst at sina.com, who caught a lift with Wang in October 2008, said Wang's work is invaluable.
"First, he takes a risk himself by allowing strangers into his car. Second, he has stuck with it for such a long time that it can't be a publicity stunt."
Wang is thankful for the support he gets.
His family worries about his safety when he offers free rides but are still behind him.
"In my hometown in the countryside of Hunan province, people carry each other on bicycles. If no one takes your ride, you must be unpopular among your friends," Wang said.
He believes people in big cities should trust each other as well.
It may also be easier for people to believe that a man sitting in a million-yuan Mercedes-Benz will not rob them.
Still, Wang is not advocating others simply offer free rides to total strangers.
"The most efficient measure is for car owners who are living and working close to each other to form a car pool team," he said.
"It will be simpler to carry out and more environmentally friendly."