Why China's family-run plastics recycling industry is not so clean and green. Li Jing reports from Hebei.
After walking half a block just to put an empty water bottle in a waste bin marked "recycle", you might be forgiven for feeling relaxed about your role in helping to save the planet.
But do you know where that bottle goes?
If you live in Beijing, Tianjin or any other city in North China, the chances are that once it is collected by one of the many independent "junkmen" and sold to a waste collection business, the bottle ends up in Wen'an county, Hebei province.
About 120 km south of Beijing, Wen'an is the largest cluster of family-run plastics recycling businesses in North
China. From its humble beginnings in Yincun village in the 1970s, the industry has evolved into a mature chain: from sorting and cleansing, to melting, shredding, granulating and molding.
However, this is not the clean, green process most people would picture. This is the dirty world of recycling.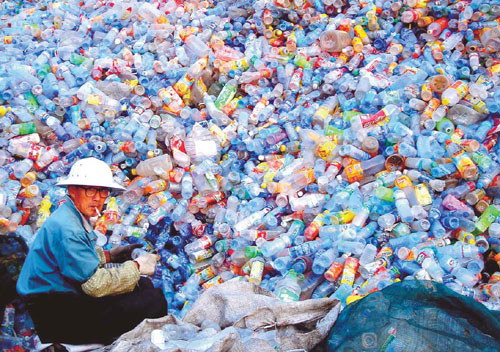 A man sorts empty plastics bottles into diff erent categories at a garbage recycling plant in the suburbs of Huaibei, a city in Anhui province. China consumes 52 million tons of plastics a year. [XIE ZHENGYI / FOR CHINA DAILY]
Residents in Wen'an told China Daily that the pollution created by this "sustainable" industry is seriously affecting their health and has even made them afraid to drink the water, which many believe is severely contaminated.
Traveling through the county, it is impossible to miss the large advertising boards that line roads. Nearly all say in big, bold letters things like PE, PS, PVC and PP, which describe to those in the know the kinds of plastics different companies handle.

"There are several hundred varieties of plastics. It is difficult for outsiders to tell the difference but we can," said the middle-aged boss of a small plant who did not want to be identified.
The courtyard at his plant is cluttered with heaps of waste plastics, some in big sacks, others squashed into a cube. Among the piles were empty bottles of engine oil and Nivea body milk, medicine bottles, tubs of yogurt, pesticides containers, as well as fragments of plastic bathtubs and fruit baskets.
"They are from two different channels. The plastic in sacks is from nearby cities or provinces, while the plastic in compressed cubes has been shipped in from other countries," explained the boss.
Despite China's customs authorities placing a ban on the importing of plastic household garbage from overseas, large shipments still make it to the mainland, say analysts. The waste is usually smuggled in shipping containers mixed with industrial waste.
Like many other companies, the Yincun plant receives a steady supply of imported waste, which now makes up half of its business. In Liuzhen, a nearby village, almost all the plastic that is recycled is from abroad, China Daily discovered.
Although the price varies for different types of plastic, the plant owner in Yincun said imported waste is generally cheaper than domestic waste. In recent months, imported waste has cost about 3,000 yuan ($440) a ton, although they are not separated by type, he explained. However, a ton of only mineral water bottles collected in Beijing is about 4,000 yuan. "Even if we have to take extra time to sort the bottles, the imported waste is still cheaper," he said.
As he runs a small operation, he usually hires migrant workers from other provinces to manually sort the plastic by polymer type or color. For example, bottles for fizzy soda drinks, such as Coca-Cola and Pepsi, are made of polyethylene terephthalate (PET), while bottles for orange juice, mineral water and shampoo are made of polyvinyl chloride (PVC).
"By burning the material with a lighter, and then smelling it and stretching it, we can easily determine what type of plastic it is. Sometimes we only need to take a bite of the plastic to find out," said the plant boss.
Without any formal training or even textbooks on the subject, this special know-how has for decades spread among people in Yincun through word of mouth.
After the plastic is sorted, it is smashed into small pieces and cleaned with caustic soda to remove any residue, such as oil and pesticides. Then it is ready for the mechanical recycling process.
In a family-run factory in the neighboring village of Lugezhuang, a 20-year-old worker surnamed Zheng stood over a run-down melting machine that produces polypropylene (PP) granules. Although the air in his small, dark room was choked with thick, pungent fumes, he seemed unbothered by the conditions. He spends 12 hours a day watching the machine make sure the temperature stays at around 200 C. "We produce about 2 tons of PP granules every day and the boss gives us about 70 yuan each," said Zheng, who got the job two months ago.
The machine turns the plastic into a thick, sticky liquid, which is then filtered into thin threads. Once these cool and become solid, they are finely chopped into small granules.
A plastics market has been running in Yincun since 1986 and, beginning at 6 am every day, people come to trade waste plastics and recycled products. Locals say the market hit a peak in the 1990s but, as more factories have secured their own supply and sales channels, trade has declined.