Shandong's efforts to clean up clogged waterways prove futile
The Eastern Route of the South-to-North Water Diversion Project, one of the world's largest water projects, has been delayed by about five years due to problems associated with water pollution, officials in east China's Shandong province said on Friday.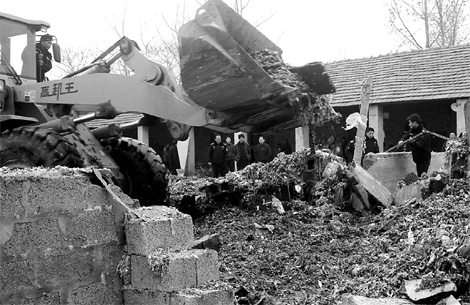 Law enforcement officials in Tancheng county, Shandong province, clear the garbage from an illegal waste disposal facility, which had been dumping the trash into a nearby river. [File photo] 
Construction of the Eastern Route of the project, which aims to divert water from China's rainy south to its dry north, is now expected to be completed in 2013.
"Despite Shandong's efforts to clean up waterways, pollution still remains a major obstacle for the Eastern Route," Gao Guangyong, an official from the Jining environmental protection bureau, was quoted as saying in China Business News.
Construction of the Eastern Route, which will divert water from the Yangtze River in Jiangsu province to Tianjin municipality through Shandong, began in December 2002.
Related readings:


 Massive water diversion project put on fast track


 Construction on water diversion project to accelerate


 Environmental protection in water diversion project stressed


 China starts relocating thousands for water diversion

According to the original plan, water was expected to reach Shandong in 2007. But the quality of water in major waterways remains unqualified for diversion, Gao said.
Paper mills, chemical plants, pharmaceutical factories and other polluting enterprises dot the areas surrounding major waterways in the province.
Since 2005, more than 350 energy intensive and polluting plants have been closed down in Jining, a city in the southwestern part of the province, which has almost 198 km of water tunnels. Yet, the water quality in the city's waterways is worse than Grade III, the national standard for drinking water.
Tai'an faces a similar problem, according to Sun Jianxiu, an official from Tai'an environmental protection bureau.
"Dawen River, Dongping Lake and Guangfu River still fall short when it comes to water quality," he said, adding that about 80 percent of the waterways are polluted.
"And the pollution gets worse in dry seasons."
Sun said many of the wastewater treatment plants in the city are not functioning properly.
Although some polluting enterprises have been closed down, the overall pollution level has surpassed the environmental capacity in the area -a result of rapid economic development, Sun said.
Increased shipping pollution has also contributed to the deteriorating quality of water.
Shandong provincial government recently made a 60-billion-yuan ($8.78 billion)budget for projects to protect the ecosystems along the major waterways in the next five to 10 years. The projects include restoring wetland, controlling agricultural pollution, water and soil conservation, and afforestation.
Last December, Vice-Premier Li Keqiang called for intensified efforts on pollution control and eco-environment protection in both the water source area and areas along the water diversion project.