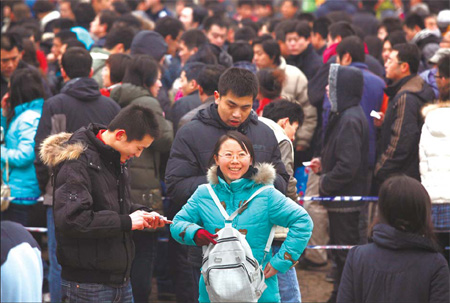 A woman is all smiles after she snagged tickets at Beijing Railway Station yesterday. Wang Jing
With less than a week to go before Spring Festival, Beijing railway police are tightening up their campaign against ticket hoarding and related problems.
By last Saturday, more than 6,000 police officers and another 1,200 trainee officers and volunteers had been mobilized against scalpers and to keep order in the busy railway stations. The city has handled 313 ticket-related cases and caught 356 scalpers, according to Beijing Evening News.
A scalper surnamed Liu was arrested at his home in Dongcheng district recently. Railway police found 170 tickets with departures from Beijing.
Liu allegedly hired several people to queue in the railway stations and buy tickets for him, which he then sold on for profit.
Police also arrested two people who ran a shop in an office building in Shangdi, north Beijing, last Monday. Kong and Huang were detained for illegally scalping train tickets.
As many as 45 tickets were seized in the raid on Monday and the couple confessed to having made 2,000 yuan from sales at that point.
Spring Festival is the most important Chinese festival for family reunions. People return to their hometowns from work or study on or before lunar new year's eve.
However, the supply of railway tickets often fails to meet demand. Many travelers who cannot obtain tickets legally often approach scalpers as their last choice.
The country's railways are expected to transport 210 million passengers from Jan 30 to March 10 this year, or 5.25 million passengers daily. This figure is up 9.5 percent from last year, according to the Ministry of Railways.
In Beijing alone, 34.35 million travelers should flow through the city during the 40-day Spring Festival season, an increase of 12.7 percent year-on-year.
The Beijing West Railway Station started the peak period for travel on Saturday, with an expected 310,000 travelers daily from then on. The station has stopped sales of platform tickets to maintain the smooth flow and safety of its passengers.
The Beijing West Railway Station has also set up 135 temporary 24-hour ticket offices to meet customer needs. It stated publicly that sales staff would be fired for purchasing tickets for others and they are prohibited from carrying cash and mobile phones during work hours.