The highly anticipated 3D film Avatar opened yesterday at midnight to some of the worst weather conditions to hit Beijing in half a century, but this did not appear to deter moviegoers.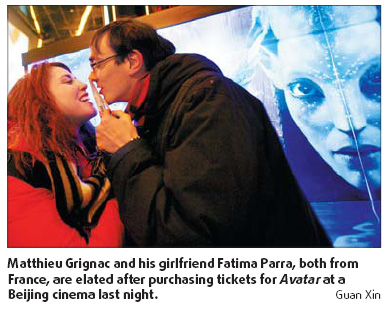 Liu Hui, manager of Beijing's UME Huaxing International Cineplex, said her theater offers two options for moviegoers, one in 3D and the other in IMAX 3D, which offers better visual impact.
"For the midnight premiere, we were at 90 percent capacity for the 3D version and 100 percent for the IMAX 3D," she said, adding that the tickets for the IMAX 3D screening sold out two days prior to opening.
The -16 C temperatures and up to 30 cm of snowfall on Sunday appeared to be more of a blessing than a burden, based on the demographic for the first day's turnout.
Related readings:


 `Avatar' rules with $68.3M, tops $1B worldwide


 "Avatar" passes $1 billion at world box office


 Obama family goes to the movies to see 'Avatar'


 'Avatar' leads box office in North America

Due to the severe weather, local authorities closed schools yesterday, leaving many students, teachers and their parents an entire day to catch a film. And in this case, the turnout was overwhelmingly for Avatar.
According to a ticket seller at UME's Anzhen theater surnamed Gu, almost all the people who came yesterday bought tickets for Avatar.
When asked what piqued their interest in the film, most in the ticket lines for Avatar said that they were big fans of director James Cameron.
"He's a very important director in movie history," said Liu Liwen, a sophomore at the Central Academy of the Arts, who came to see a 12:30 pm show with his girlfriend. "Also, because I heard of the big budget and the 3D - I was sure it was going to be a landmark movie."
Most of Beijing's big cinemas offer a 3D experience but only two show Avatar in IMAX 3D: UME Huaxing International Cineplex and the China National Film Museum Theater.
The 3D digital effects were a major draw for those in line to purchase tickets. For many, Avatar was the first film they would watch in 3D.
"I don't know what to expect," said one woman waiting in line for Thursday's tickets at UME's Huaxing outlet. "But I can't wait."
Cameron attended a promotional event for the film in Beijing on Dec 23 that catered specifically to the Chinese press. Heavy promotion across the country for Avatar, which included websites, magazines and television, seems to have had the desired effect.
"After seeing previews of the show on TV, I knew I wanted to see it," said Zhao Yang at UME's Anzhen location yesterday afternoon.

The Canadian-American director is best-known for directing Terminators I and II and Titanic, which grossed 360 million yuan ($52.7 million) at the Chinese box office in 1998, a record that was broken by Transformers II 10 years later.
The Transformers sequel, which earned 400 million yuan, was topped by 2012, which made 460 million yuan when it screened late last year.
"But one thing people should also consider is that this movie has special requirements," Liu explained. "It's in 3D so it's shown in fewer theaters."
"However, this time of the year is really advantageous because of the upcoming Spring Festival," she said.
Liu, who has experienced the mania for both Transformers and 2012 at her theater, is optimistic about Avatar's potential. "I think Avatar will probably reach 500 million yuan."
Weng Li, spokesperson for China Film Group Corporation, was also upbeat about the overall performance of Avatar.
"The movie will create a box office record of 500 million yuan easily," he was quoted as saying by Sina.com yesterday.
UME Huaxing's box office earnings for Avatar have so far reached 450,000 yuan, which includes sales for both yesterday and today.
"And that's just one theater and only two days," she said, enthusiastically. "I mean, we're pre-selling tickets for Thursday as we speak."
In the past two months, there has been a 20-percent increase in 3D screens across the country, which has taken the number to 700 nationwide, according to Weng.
But there are only 11 cinemas nationwide that have IMAX 3D screens, which are located in big cities like Beijing, Shanghai, Tianjin, Wuhan and Changsha, according to Hangzhou-based Qianjiang Evening News.