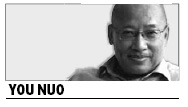 Depending on how you look at it: The real estate industry can be said to be the most successful sector in 2009, which saw housing prices in some large cities almost doubled from early of the year, when signs were pointing to a possible domino effect from the housing market collapse in the United States.
Thanks primarily to Beijing's huge ($586 billion) stimulus initiative, housing prices picked up in the second quarter of the year and has been on a rapid increase. At least according to its year-end price level, the industry has remained one of the least affected industries in a year of global recession.
But to many urban residents, those from the waged and salaried classes in particular, the industry is a dreadful success. It is only being looked upon in bitter despair. When a new housing unit is worth at least 20 times of a working class family's annual income in Beijing and Shanghai, it may soon drive away local young professionals to less expensive cities.
The industry may also be viewed as the most unruly in the eye of policy researchers. Some have called it a downright failure in the Chinese language press because it has never seemed to respond to the central regulatory agencies as expected.
Yet the skyrocketing prices and the sales volume in the last few months of the year might have sent local governments into raptures. Because the more units the industry sells, the greater chance the city government could earn higher revenue from land rights auctions in the future.
With the local press reporting housing price increasing almost on a weekly basis, it is not surprising to hear that the housing market volume - a combination of the sales of both new and old units - was larger than 60 percent of Beijing's GDP.
Overall, the housing market is said to have contributed 20 percent of the national GDP in 2009. For many mayors in China's coastal areas, the real estate industry must have been their dearest darling.
However, for Beijing, as well as for any city with a potential of diverse businesses, it is dangerous to depend on a single industry for its stability and prosperity. Doing so, as some scholars are already pointing out, is like quenching one's thirst by drinking poison, causing long-term and not so long-term risks.
A likely danger is what economists call assets-driven inflation - as in stocks and anything that is put to speculative use. An immediate consequence of that could be a crisis of credit-worthiness. We still do not know how much money was borrowed, by companies and by individuals, for housing investment last year. But as the stronger than usual price rise could reflect, the figure could be significant.
When credit tightens, as one can be almost certain it will come at some point in the middle of 2010, many real estate investors and home owners would probably have to make some adjustments to their financial plans.
Worse still, when society's money is being almost entirely channeled to the real estate, other industries will inevitably suffer - from less financial commitment and less growth. That inevitability is evident in the fact that, as many new houses are filled by speculative orders, much of the ground level commercial space has remained empty. The shops and restaurants that are already open seldom register great business.
In Beijing, Shanghai and many Chinese cities, sometimes it takes years for a newly built residential area to be surrounded by enough services and conveniences for consumers.
This betrays a lopsided development pattern. One can see that the real estate industry's growth has yet to benefit many small- and medium-sized enterprises, even less a general boom in opportunities, even though the local governments can earn impressive GDP records.
That the government is making more money than its citizens is perhaps the most dangerous thing, economically and politically. Officials' single-minded dependence on the real estate industry may have interfered the government program that cares for low-income groups and landless farmers, especially when mass protests are often associated with disputes in land development.
E-mail: younuo@chinadaily.com.cn
(China Daily 01/05/2010 page9)