China will stick to its current supply regime to support anti-piracy operations in the Gulf of Aden, the Defense Ministry said on Thursday, responding to an admiral's suggestion that Beijing set up a permanent base in the region.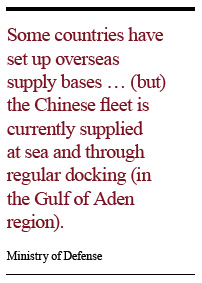 Experts said an overseas supply base might be an option in the future, but is not an urgent issue now.
"Some countries have set up overseas supply bases (but) the Chinese fleet is currently supplied at sea and through regular docking (in the Gulf of Aden region)," said a ministry statement faxed to China Daily.
The statement was in response to an outspoken retired admiral, Yin Zhuo, who said setting up a base would bolster China's long-term participation in the operations.
"We are not saying we need our navy everywhere in order to fulfill our international commitments," Yin, now a senior researcher at the navy's Equipment Research Centre, said in an interview published on Tuesday. "We are saying to fulfill our international commitments, we need to strengthen our supply capacity."
Yin's proposal came after a Chinese cargo ship and its crew of 25 were rescued from Somali pirates on Monday.
China has sent four flotillas to the region since the end of last year, with the first escort fleet spending 124 days at sea without docking, Yin said - a length of time that added to the challenges of the operation.
Related readings:


 Chinese warships dock home from Gulf of Aden


 My tour of duty in the Gulf of Aden


 China's 3rd flotilla sails into Gulf of Aden


 Two fleets of naval escort ships meet in Gulf of Aden

Since then, Chinese vessels have docked at a French naval base for supplies. The United States, the European Union and Japan have supply bases in the region, Yin pointed out.
"If China establishes a similar long-term supply base, I believe that the nations in the region and the other countries involved with the (anti-pirate) escorts would understand," he said.
Still, his suggestion has evoked wide international concern.
The BBC said "other countries have been closely monitoring China's international deployments for signs of increasing assertiveness in its foreign defense policy."
The report said the Chinese navy "has not been in this part of the world (the Gulf of Aden)" since the Ming Dynasty (1368-1644).
During the 15th Century, Chinese vessels reached the East African coast, visiting Mogadishu and Malindi in Somalia and Kenya, even taking back a giraffe and a zebra as souvenirs.
Yin's proposal raises "the idea that China could build foreign bases elsewhere", AFP said in a report.
But Jin Canrong, an international relations expert at Renmin University of China, said Beijing has yet to seriously consider setting up a permanent overseas supply base. He said it's unnecessary to "play up the personal view of Yin, a retired admiral".
Jin, however, said the possibility of setting up such a base should not be ruled out.
"China's national interests have extended beyond its border, so it's necessary to have strong ability to protect them," he added.
Li Jie, a senior colonel and researcher with the Chinese Navy's Military Academy, also said Beijing should consider setting up an overseas supply base "in the long run".
"For many other countries, it's a common way of ensuring naval supplies," Li said. Such a base, "not a military one", would not only ease supply but also provide a venue for naval personnel to take a break.
But an overseas base could only be set up "within the UN framework and concurrence of surrounding countries", he added.