GULF OF ADEN - The second fleet of Chinese escort ships arrived at the Gulf of Aden on Monday to replace the first fleet sent there earlier on escort missions through pirate-infested waters off the Horn of Africa.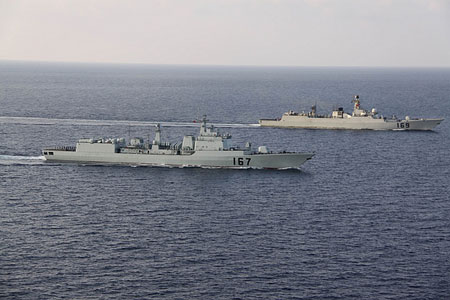 Destroyer DDG-167 Shenzhen (L) of the second fleet and DDG-169 Wuhan of the first flotilla sail in the Gulf of Aden, April 13, 2009. [Xinhua]
The new task force, which includes the destroyer DDG-167 Shenzhen and the frigate FFG-570 Huangshan, will relieve two destroyers. The supply ship Weishanhu, part of the first flotilla, will remain in the gulf.
Related readings:


 Chinese naval fleet wards off pirates' attack


 New fleet sails to fight Somali pirates


 Somali mission fleet to be replaced in March or April
After their rendezvous, the crew of the first flotilla will brief their successors on pirate activities in the area and experience gathered from three months of escorting operations, while crew members from the second fleet will familiarize themselves with the procedure of such operations.
The two fleets are scheduled to conduct two joint escort missions this week.
The first Chinese fleet, which arrived in the Gulf of Aden on January 6, has escorted 206 ships, including 29 foreign merchant vessels, and successfully rescued three foreign merchant ships.
The second fleet set sail on April 2 from Zhanjiang, a port city in southeastern China.