COPENHAGEN: Chinese Premier Wen Jiabao vowed the country is determined to deliver a notable reduction in carbon intensity even if today (the final day of two-week UN climate change conference) sees no positive outcomes.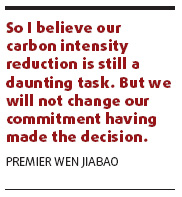 Wen and his colleagues have been working against the clock in recent days, through telephone diplomacy and meetings, in an attempt to move forward the negotiation agenda.
"I know there are still some obstacles ahead but no matter what outcomes this Friday sees, China is determined to achieve its goal of cutting carbon intensity," said Wen during his flight to Copenhagen on Wednesday.
In response to questions from China Daily about the scientific basis for the country's goal of slashing carbon emission per unit of economic output by 40-45 percent by 2020 from the 2005 level, Wen said China's top scientists and economists worked out the goal after lengthy research and feasibility studies.
Special coverage:


Copenhagen Climate Change Conference 2009
Related readings:


 2 degree temperature rise may be long-term goal: Wen


 Preserve the progress: Wen


 Wen meets with leaders of nations vulnerable to climate change


 Wen arrives in Copenhagen for climate talks

"It has reflected China's reality and experts from eight top-ranking organizations, such as the Chinese Academy of Social Sciences and the Chinese Academy of Sciences, have been involved in the relatively lengthy efforts," Wen explained.
There has been some criticism at home and abroad of China's explanation of the feasibility study used in the setting of such a tough target.
Wen said China faces challenges in realizing such a notable cut margin.
"This is mainly because it is hard to maintain China's economic growth at the same high rates as it did in the last three decades," said Wen, adding that it is relatively easy for a country to slash carbon intensity when the economy is on the fast track.
In the past three decades, China's annual economic growth rate has stood at 9.7 percent, on average, but many experts said, in the coming years, it will be difficult for China to continue to develop as quickly.
At the same time, China's population is increasing and industrialization and urbanization are still in the mid-term stage.
Some have predicated that, in the coming decade, 300 million Chinese - equivalent to the population of the US - will move to cities.
"So I believe our carbon intensity reduction is still a daunting task," said Wen. "But we will not change our commitment having made the decision."
Following the US announcement that its goal is to cut greenhouse gas emissions by 4 percent by 2020 from the 1990 base, China said it will reduce its carbon intensity by 40-45 percent by 2020 from the 2005 level.
The declaration followed Chinese President Hu Jintao announcing at the UN climate change summit in New York in September that China would make a "notable cut" of carbon intensity.
China has started to implement energy-efficiency targets since 2006 by announcing it planned to reduce energy consumption per unit of economic output by 20 percent between 2006 and 2010.
The government first mentioned the concept of a carbon intensity cut on June 5, World Environment Day, by saying China will integrate such reduction goals into its social and economic development programs.
"However, our carbon intensity reduction plans are voluntary and should not be linked with the rich countries' binding targets," said Wen.