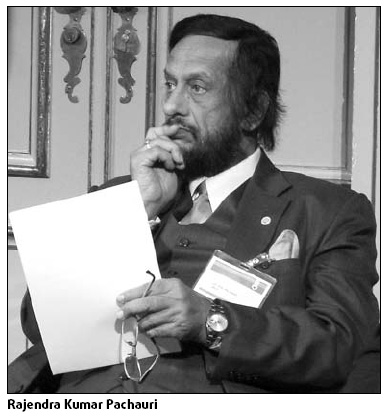 COPENHAGEN: Rajendra Kumar Pachauri, Nobel laureate and chairman of the Intergovernmental Panel on Climate Change, has little patience to worry about allegations from skeptics of climate change.
Scientific data supports the fact that global warming exists, he told China Daily on Sunday. He advised skeptics to check the data against their figures. The truth, he said, will prevail.
"It is a free world so let them believe they want to believe," he said. "Whenever new knowledge comes out, there will always be skeptics who will find that the knowledge blows in their face."
Brushing aside skeptics, Pachauri was very keen on the technology for carbon capture and storage (CCS).
His keynote speech on Sunday at a forum highlighted the technology. And with guests coming from governments, nongovernment organizations and industrialists, forum organizers hoped to appeal to more people to help make CCS technology a prominent part of final documents from the United Nations Climate Change Conference.
Legally binding deal
He also expressed his hope for a legally binding climate deal with substantial commitments to emissions reductions from all nations.
"I hope for a stronger agreement that will spell out a range of actions for nations to take to tackle the problem of climate change," he told China Daily before his keynote speech.
The panel's fourth report on climate change not only offered assessment on the extent and nature of climate change but also a vision to protect the future, he said in his keynote speech.
Citing key figures from the panel's report in 2007, he said that soaring temperatures has been coupled with a dramatic rise in sea level by 17 cm.
"There is also the increase in the frequency, intensity and duration of floods, droughts, heat waves and extreme weather effects," he said.
He noted that G8 and G20 leaders set a goal of limiting the rise in temperature by 2 degrees Celsius.
Target demands action
The panel's scientists believe that this target warrants immediate action, he said, and that "the action must ensure that greenhouse gas emissions must peak no later than 2015."
Nations must start stringent mitigation measures. By 2050, developed nations and other countries must be ready to cut CO2 emissions by 80 percent or pay high prices if that goal is not met, he said.
He revealed that the panel's scientists are making use of the latest research results to examine how to reduce CO2 intensity levels.
He is keen on the current CCS study because he believes that coal consumption will continue for a long time and the technology offers a way to cut emissions from coal-fired power plants.
Paal Frisvold, on staff with Bellona Europa, said capturing and storing CO2 hundreds of meters under the ground "could contribute to 33 percent of the CO2 reduction needed by 2050.
Frisvold said he has also visited China and talked with some Chinese environmental technology experts interested in cooperative projects.
However, Pachauri said the CCS technology has not been widely recognized. In some countries, the technology was considered a crime.
(China Daily 12/15/2009 page11)