The UN climate change conference in Copenhagen had barely begun when it was swept by a bitter controversy over the so-called "Danish text", a secret agreement worked on by a group of individuals representing the UK, the US and Denmark.
For more than a decade, climate talks have been driven by the principles of the UN Framework Convention on Climate Change and the Kyoto Protocol. The central idea is that the advanced economies, which have the highest per capita greenhouse gas (GHG) emissions, should take on firm and binding commitments to significantly reduce them.
The Danish text rejected the principles of the Kyoto Protocol and handed effective control of climate change finance to the World Bank. It also made any money given to poor countries to help them adapt to global warming conditional on them taking a range of actions.
Developing nations have reasons to be wary of any agreement that suggests handing effective control of climate change finance to international organizations in which they lack proportionate voice.
During the Asian financial crisis in the late 1990s, the International Monetary Fund (IMF) tied the bailouts for the most affected economies to a series of economic reform influenced by neo-conservative ideas.
Some reforms were needed, but many countries had to go through substantial political and financial restructuring, which contributed to currency devaluations, massive bankruptcies, industrial downturns, real estate busts, high unemployment and social unrest.
Today, the advanced economies (G7 nations, or the US, leading European economies and Japan) account for only 10 percent of the world's population. Yet they control some 40-50 percent of the voting power in the World Bank and IMF.
Conversely, the large developing economies (China, India, Brazil and Russia) have 40 percent of the world population, but only 10 percent of the vote.
Today, it is the emerging economies - not the advanced economies - that drive global growth and continue to lift millions out of abject poverty. Why should they voluntarily relinquish and surrender their bargaining power?
Nowadays, when CNN or BBC opens its news segments on the adverse impact of the GHGs, we often see images of Chinese or Indian cities covered by smog. It would seem that, in so far as large emerging economies account for most of GHG emission growth, there is some validity to these stories.
Yet, with only one-sixth of the world's population, it is the high-income countries that are responsible for more than two-thirds of the GHGs in the atmosphere.
We do not see images of early industrialization when Britain's Manchester - known as "Cottonopolis" - was covered by a huge number of factory chimneys and dangerous GHGs. Nor do we see the densely populated metropolises in Western Europe, the US and Japan that gave rise to the problem of climate change in the first place.
The moral of the story is to understand that what happens today in the rapidly industrializing East is not that different from what once happened in the early industrializing West.
In both cases, economic growth has liberated hundreds of millions of people from poverty, but not without a tradeoff. It has dramatically accelerated climate change.
Adapting to and mitigating climate change is imperative to our survival as a species; yet innovation remains marginal in energy industries.
Today, global subsidies to petroleum products amount to some $150 billion a year. Yet, public spending on energy research, development and deployment (RD&D), has been about $10 billion for decades, except for a brief increase following the oil crisis. That is only 4 percent of the overall public RD&D.
Today, private spending on energy RD&D is about $40 billion to $60 billion a year. That is barely 0.5 percent of the private revenue - only a fraction of what innovative industries such as telecom (8 percent) or pharmaceuticals (15 percent) invest in R&D.
Pharmaceuticals and mobile communications are vital to our quality of life; it is thus only understandable that innovation drives these industries. Energy and the environment, however, are critical to our survival as a species. Yet we seem to invest the least in issues that matter the most to our future.
What is needed is dramatically higher public and private funding for R&D of non-carbon-based energy - as well as bold venture capital investments in disruptive technologies that hold the potential of dramatically cheaper, quicker and reversible impact.
Decision-makers are unlikely to sign a comprehensive and legally binding global deal in Copenhagen. Greater policy breakthroughs may be possible by summer or fall of 2010.
What may matter the most in the long-term, however, is the vital need of global cooperation and innovation to overcome the challenge of climate change.
The policy decisions that gave rise to climate change may were first made in London, New York City and Tokyo. But the adverse impact of climate change will only be surpassed through cooperation with Beijing and New Delhi, Moscow and Sao Paulo.
Economic growth is vital to lift the remaining billions out of poverty; addressing climate change is critical to sustain that growth.
Challenges of humanity are never won by pointing fingers, but by joining hands.
The author is the research director of International Business at the India, China and America Institute.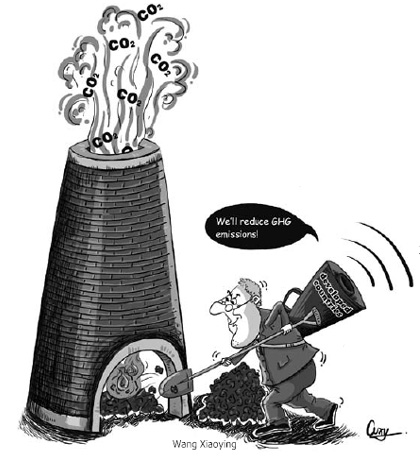 (China Daily 12/15/2009 page9)