COPENHAGEN: Coming from a country which had held the Olympic Games and has the world's most crowded train station, I had seen a crowd of over 100,000 people several times in my life, but never such an exciting crowd as the one I saw at the Climate March in Copenhagen on Saturday.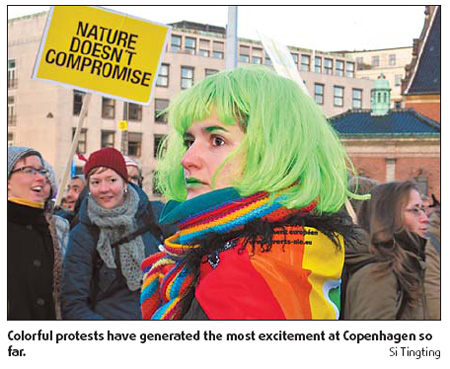 An estimated 100,000 environmental activists representing 515 environmental NGOs from 67 countries descended on downtown Copenhagen to call for "climate justice".
Full Coverage:
Copenhagen Climate Conference
Related readings:


 Copenhagen rally calls for 'real deal'


 China raps sidetracking at Copenhagen summit


 Justice for all at Copenhagen


 Success at Copenhagen up in the air

 Hollywood goes to Copenhagen climate summit
The demonstration began at 1 pm and people marched for 4 kilometers from downtown to the conference center. Although my mobility was confined by the huge crowd for a long time and I was too far away from the celebrity speakers at the center stage, I was not at all bored. I was surrounded by music, hot dances, inflatable snowmen and people dressed as dinosaurs, pandas and polar bears, and most of all, flashy banners with really smartly coined slogans.
While many people shouted out slogans, a lot more spread the message with the global language: music - Afro, dub reggae, funk, indie, salsa and more. A shabbily-equipped band, with a dozen people armed with whistles, drums, steel pipes and flutes, had together worked out the most motivating tune I have ever heard. There were also people blowing the battle horn to say "the war on climate change is on".
I couldn't say that I met the oldest protester in my life at Saturday's demonstration, but I definitely met the youngest one. Nine-month-old little Hakki, who lay flat in his stroller, busily looked up and down, checked left to right at the dramatic demonstrators around him. His spokesperson, his father, told me he wanted the kid to be an eyewitness to the biggest demonstration in most Danish people's memory because "it matters to his future."
Above all the fancy background and the cries of too many voices, one message cannot possibly be heard.
Climate negotiators! Stop the "bla bla bla" and make immediate progress to achieve "a real deal" because there is "no planet B" - those were the most widely seen messages on thousands of banners.
However, there are still groups here asking for the rights for people in developing nations to look up to the lifestyle of those in developed countries and the rights for developed nations to continue with business as usual.
The presence of these groups put me into deep thought, as I heard the heart-wrenching stories in the past week from people from small islands such as the Maldives and Fiji.
These countries are experiencing rises in ocean levels, more hurricanes and increased tropical epidemics like dengue fever and malaria. Their people will be most disappointed if a dealis not delivered at the end of the conference.
Right now, there is such a disparity between the climate proposals that different nations have brought to the negotiating table, it may be impossible for anything to happen in the coming week but more dialogues in the future.
But people that are most vulnerable to climate change can wait no longer for more dialogues and the world should stop spending so much time and money to achieve a watered-down climate deal.
I finally decided to leave the so-far most exciting event of the Copenhagen climate conference after I heard two gunshot-like "bangs" and the ensuing sirens after two hours of march. I was afraid something ugly might turn up that day.
Later I learned from the news that the climate march turned violent when a group of protesters, dressed in black and faces covered in masks, shot fireworks at police officers guarding the Foreign Ministry.