COPENHAGEN: Nhlanhla Mkhwanazi hesitates for a while before making up his mind. He jumps down and struggles for breath. Finally, he is able to catch his breath and moves around with ease.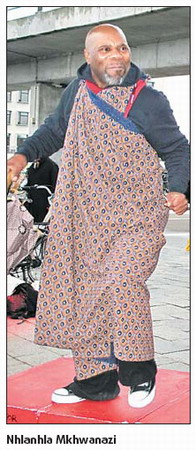 The people surrounding him are cheering: "Great, grandma, now you know how to swim."
The short skit shows how women have to learn swimming as one way to adapt to severe floods caused by climate change. It is being performed every morning, noon and afternoon at the entrance of the Bella Center, where government officials from 192 countries are in deep negotiations for an agreement upon which the countries can work together to mitigate global warming.
"What is important about this play is, it's strong message that women should be part of the decision-making in tackling climate change," said Mkhwanazi, 42, and a member of Cape Town-based Africa Theater. "I play a woman because I believe it."
"What we have to say is that gender is a big part of the climate because it is the women who are working" said Luke Ellenborgen, director of the play.
Instead of Power point presentations, Ellenborgen and his crew - two men and three women, are "humanizing" how climate change affects rural communities, especially women, who are often left behind to fend for the elderly and the children.
"People here who make important policies do not consult ladies at the rural level and the problems behind it are not dealt with properly," Ellenborgen said.
Special Coverage:


 Summit in Copenhagen
Related readings:


 'Made-in-Denmark' better at delivering green message


 Wedding motorcades fall out of fashion


 Carbon neutral wedding tests ingenuity of professional couple


 Green society needs low-profile lifestyle


 Green association of eco-city to be unveiled
"So the women's voices have to be part of the thinking," he said.
Inside the Bella Center, a number of women's international NGOs have joined hands with several UN agencies to form the Global Gender and Climate Alliance.
Andrea Quesada, who works for the two-year-old alliance, said that all the members of the alliance are working hard to incorporate gender in all the policy initiatives related to climate change.
Quesada said that the organization has been successful in introducing the language of gender equality in the final climate change document to be sealed in Copenhagen. However, she said, there is a lot work to be done.
She said that when the final document is too long, the first phrases to go could be the language about gender-equality.
"Women should be recognized as agents of change," Quesada said. "Without men and women working side-by-side, we cannot reach a climate solution."