If you love her, you should give her a big fat wedding.
That's what almost every groom would be told if marrying a Chinese bride. But 31-year-old clean-development professional Guan Yisong's wedding, to be held later this month, put him in the middle of a dilemma.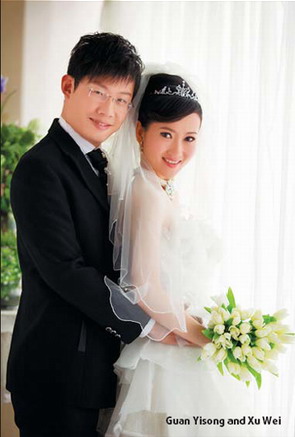 Guan deals with carbon emission reduction at work almost every day, so he hated the idea that his own wedding would generate a lot of emissions. "But I would not allow myself to not give my girl a wedding; it is once-in-a-lifetime thing and I wanted to make it special," said Guan, co-founder the of Easy Carbon Consultancy Co Ltd, which he said is one of China's top five consulting firms in the field.
Guan's 27-year-old bride, Xu Wei, is a graduate of environment studies and formerly worked in the clean-development division of the National Development and Reform Commission.
Both of them have broad experience with emissions-offset projects, so they wanted to apply this approach to their wedding.
To make their wedding as green as possible, the couple will hold their wedding in a hotel next to a subway station in downtown Beijing. They also dropped the idea of renting a limousine as their wedding car.
But they ruled out other compromises: They need to have fun, to have a flashing chandelier, to order champagnes shipped from abroad and to have as many friends at the wedding as possible - even if they will fly to the wedding or drive a car.
To neutralize carbon emissions from the wedding, Guan will first calculate the volume of greenhouse gases created. "Basically we found out how guests were traveling to the wedding - by car, metro or bus. We also factored in the electricity used at the wedding, especially in the lighting and audio-visual effect, and the emissions created from food preparation."
At their banquet reception desk, guests will report their means of transportation and their travel distance - guests' transportation is the biggest contributor to the wedding's carbon footprint, he said.
Related readings:


 'Green bank' helps China reduce carbon emission


 Chinese woodchoppers' low-carbon life


 Qingdao to accelerate low-carbon-model economy


 500,000 Chinese sign to support low-carbon lifestyles


 Low-carbon lifestyle fashionable
According to Guan and his colleagues' preliminary estimation, less than 50 tons of carbon dioxide will be generated for this 200-people wedding.
But Guan will consult with experts from Tianjin Climate Exchange and other professionals to work out the best scheme to calculate the emissions.
To offset the greenhouse gases, the young couple will pay a certain amount of money toward clean energy projects - such as wind farms and hydropower plants. In addition they could also pay to plant a few trees. Essentially this meant that they will fund projects that would offset the fossil fuel emissions that the wedding produces.
Currently, if the carbon was offset by wind farm projects or hydro power plant projects, the couple would pay about 4 euros for a ton of emission. However, if they choose to offset the emissions by planting trees, the cost will be much higher - about 10 to 20 euros a ton.
"The investments in wind farms and hydropower projects are most cost-effective, but we think financing a forest will be more romantic," Guan said.
So while Guan and Xu could pay about 200 euros to make their wedding carbon neutral, the cost would triple if they choose to pay for a forest.
About 80 percent of their guests are familiar with the carbon-footprint concept, the couple said. Most are the bride and groom's colleagues and former college classmates, whose jobs are related to environment. The bride's father was a senior environment official.
"Our best man works in China's climate talk negotiation team, and he will join our wedding right after he came back from the Copenhagen climate conference," he said.
Although a carbon-neutral wedding is not a new concept in many Western countries, Guan was pretty sure his wedding would be the first of its kind in China.
"Voluntary emission reduction is still a new word for most Chinese, and I don't think it is feasible for most Chinese people," he said.
Though they declined to reveal their exact income, Guan and Xu admitted that their salaries are well above the average in China.
"Having a carbon neutral wedding is surely a thing for the well-off people, because it is unrealistic to charge people for emissions when they are still struggling to make a living," he said. "But the problem is the rich people don't know much about carbon offsetting."
In recent years, the fancy settings of celebrities wedding had made headline news and captured public interest. "I am pretty sure that if they know there's something called carbon neutral wedding, they would love to pay to offset the emission," Guan said. "They just don't have the knowledge about it, and I hope our wedding could be an inspiration," he added.
"Just like many people would donate money to support poor kids to go to school, we love to do something good for the environment," said Xu, the bride.