Situ Yu, a 28-year-old Beijing resident, often chooses public transportation nowadays, although she bought a Ford Focus in 2007.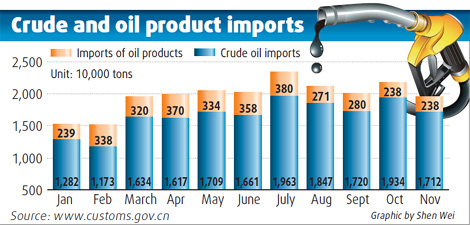 "The gasoline price is so expensive now. I have to tighten my belt," she said, adding that she has to pay around 1,000 yuan to buy fuel every month.
"The price was going up too quickly this year," she said. "Some of my friends also choose to drive less because of the high fuel prices."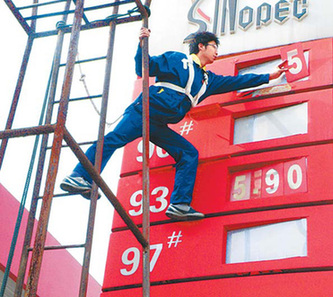 China has adopted a new oil pricing system. Under the mechanism domestic refined oil prices will be adjusted according to the moving average of a basket of international crude (Brent, Dubai and Cinta) changes. Crude oil for January delivery traded at $72.86 a barrel, up 20 cents, in electronic trading on the New York Mercantile Exchange last Wednesday. Oil rose for a second day after a nine-session rout in which prices plummeted 11.3 percent from levels above $78 a barrel on December 1. [Asianewsphoto] 
China has adjusted domestic refined oil prices eight times this year, with five increases and three reductions. At present the 93-octane gasoline, which fuels most of Beijing's taxis and private cars, sells at 6.66 yuan per liter, an historical high.
The country adopted a new oil pricing system this year. Under the mechanism domestic refined oil prices are adjusted when the moving average of a basket of international crude (Brent, Dubai and Cinta) changes more than 4 percent over a period of 22 working days.
Under the system domestic refined oil prices are more linked with global crude prices. However, it also evoked wide debate on whether the fuel price or the pricing system was reasonable.
"It seems to me that each price hike is synchronized with the rise in international crude prices, but each price cut is always delayed," said Zhang Wei, a taxi driver in Beijing.
Zhang's views are echoed by many taxi drivers in the capital. "Compared with each price hike, the three price cuts so far this year are quite small," said Li Hongbing, another taxi driver in the city.
Because of the high fuel prices Beijing taxi passengers have had an extra 1 yuan added to their bills for each trip as a fuel surcharge since November 25. "I don't think this is a good method. What if the price goes higher?" said Li.
Some industry insiders also regard the pricing system as unreasonable. "Today's gasoline price is even higher than last July, when the international crude price hit a record high. How can we say such a system fairly reflects the change in global crude prices?" asked an analyst who declined to be named.
In addition to complaints about excessively high oil prices, a report saying that domestic oil companies are exporting oil products at very low prices has caught much attention recently.
Several days ago an unnamed analyst said on a website that China's average export price of refined oil was only 2.4 yuan per liter, far lower than the domestic price. That was because the nation aggregately exported 14.96 million tons of refined oil from January to August 2009, but the total export value was $6.65 billion.
Commenting on the issue, Huang Wensheng, spokesman for China's largest refiner Sinopec, said, "Such a calculation is unreasonable. The difference between the refined oil prices in domestic and overseas markets is related to many factors, such as customs statistics, how refined the oil is and different terms of trade."
Price next year
China's latest price hike on refined oil products was on November 10, when gasoline and diesel prices were raised by 480 yuan per ton, or 7 percent.
A total of 22 working days passed by December 9 but the National Development and Reform Commission (NDRC), China's top economic planning body, said on December 14 that the time was not ripe for another price adjustment.
It was not time yet for another change in retail fuel prices as benchmark crude markets had yet to break the range that would trigger an adjustment, reported the statement, adding that benchmark prices rose by 1.85 percent by December 9 over 22 working days.
The NDRC also ruled out high oil prices, saying that domestic refined oil prices are now corresponding to $67 per barrel of crude price, which is still $7 to $8 lower than global oil prices at present.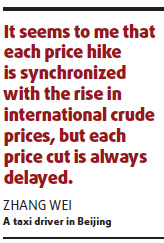 Many industry insiders believe that global oil prices will fluctuate between $60 and $80 next year. At such a level domestic fuel prices will not rise much, they said.
"It is hard to see a sharp increase in global crude prices next year. Domestic prices will change in line with that," said Jiang Xinmin, an analyst with the Energy Research Institute under the NDRC, adding that domestic prices would be changed routinely according to the 22-day formula next year.
But some analysts forecasted that crude prices might touch as high as $100 per barrel next year. At such a high price level the country may make some adjustment to the pricing system.
Market hearsay last week suggested the NDRC may shorten the calculation period for adjusting domestic gasoline and diesel prices to fewer than 22 days. It is also considering whether to fix a 200 yuan profit margin for domestic refiners.
However, such hearsay is "speculative". And China has no plan to change its fuel-pricing mechanism for now, a spokesman from the NDRC told Bloomberg News on December 16.
Oil demand
In its latest monthly report, the International Energy Agency (IEA) raised its forecast for China's oil demand by roughly 80,000 barrels a day on average for both 2009 and 2010, as the government's stimulus program is resulting in greater use of products from naphtha to jet fuel.
The agency now expects China's oil demand to average 8.4 million barrels a day this year. The demand is forecast to average 8.7 million barrels a day next year.
China's oil imports grew marginally in the first half of this year as the country's economy slowed, but will see further growth in the second half and next year as demand improves, said analysts.
"I expect oil imports will see a 1 percent year-on-year growth in 2009," said Liu Gu, an analyst with Guotai Jun'an Securities, adding the figure could well be higher.
China imported 90.77 million tons of crude oil in the first half, a 0.3-percent growth year-on-year, according to the General Administration of Customs. The country imported 179 million tons of crude in 2008, up 9.6 percent from a year earlier.
Becoming a net oil importer 15 years ago, China's oil imports have seen accelerated growth in recent years. In 2004 the figure surpassed 100 million tons, up by 35 percent from a year earlier.
Analysts said that there is no doubt that the country's oil imports will continue to see rapid increase in the long term. According to a report by the Chinese Academy of Social Sciences (CASS), 64.5 percent of the country's oil consumption is likely to be met by imports in 2020.
The gap between domestic consumption and production is the main cause for the increase in imports. Statistics from CASS showed that China's oil production is expected to reach 177 to 198 million tons in 2010, and the figure would reach 182 to 200 million tons in 2015.
China's oil production will see gradual decline after 2020, said CASS.
Analysts said that China should further diversify its oil importing sources to ensure sustainable supplies. At present the Middle East, Africa and Asia-Pacific are the three main regions for Chinese oil imports.