China is seeking to enhance its fence against separatists both home and abroad as President Hu Jintao made a visit to Kazakhstan and Turkmenistan this weekend.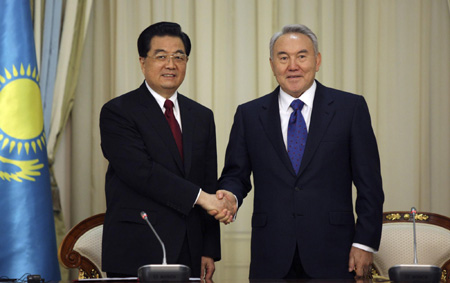 Chinese leader Hu Jintao (L) and Kazakhstan's President Nursultan Nazarbayev meet in Astana, December 12, 2009. [Agencies] 
Related readings:


 President Hu arrives in Turkmenistan for visit


 Hu leaves Kazakhstan for Turkmenistan visit


 Cross-boder gas pipeline completed as Hu visits Kazakhstan


 President Hu arrives in Kazakhstan for work visit

In his meeting with Turkmenistan President Gurbanguly Berdymukhamedov yesterday, Hu proposed to improve direct contact between each nation's enforcement agencies to combat terrorism, separatism and religious extremism.
"The 'three evil forces' have been a hidden peril to the security and stability in the region," Hu said.
The president has also proposed to set up a China-Turkmenistan Cooperation Commission to guide bilateral cooperative affairs.
Wu Hongbing, Chinese ambassador to Turkmenistan, told China Daily that a committee under the framework of the commission would take charge of efforts to combat separatists and transnational crime.
During his Saturday meeting with Hu, Kazakhstan President Nursultan Nazarbayev said that China's proper handling of the Urumqi riots on July 5 and its joint efforts with Central Asian countries are conducive to the stability in the Xinjiang region and a boon to his country.
Uzbekistan President Islam Karimov, who is visiting Turkmenistan, said "every meeting with China has yielded efforts in line with maintaining Uzbekistan's interests and is conducive to regional stability".
The cooperation between China and Central Asian nations is important because it is difficult for a single nation to weed out terrorists and separatists, said Yang Shu, director of the Center of Central Asia Studies at Lanzhou University.
Zan Tao, an expert of Central Asian studies at Peking University, said "the so-called 'Eastern Turkestan' forces pose a threat to not only China but also Central Asia."
The deadliest riot in Urumqi in decades sheds light on the need for the countries to fight terrorists together, Zan said.
China has said separatists, who had connection with the East Turkestan Islamic Movement, a terrorist group listed by the United Nations, plotted the riot.
Hu arrived in Kazakhstan on Saturday to attend the inauguration ceremony of the China-Kazakhstan natural gas pipeline, part of the China-Central Asia natural gas line. He left for Turkmenistan yesterday, where Hu and leaders of Turkmenistan, Uzbekistan and Kazakhstan will attend a ceremony marking the completion of one of two pipelines today.