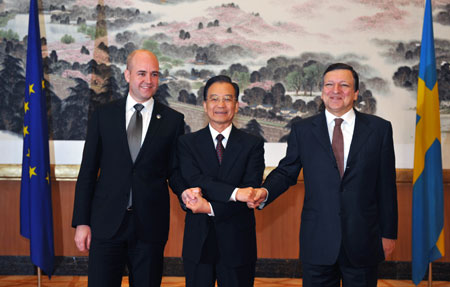 Chinese Premier Wen Jiabao (C), European Commission President Jose Manuel Barroso (R) and Swedish Prime Minister Fredrik Reinfeldt, whose country currently holds the rotating EU presidency, pose for a group photo during the 12th China-EU summit in Nanjing, capital of east China's Jiangsu Province, Nov. 30, 2009. The 12th China-EU summit began here Monday morning.[Xinhua] 
More photos on China-EU Summit

NANJING: China and the European Union, in a joint statement issued Monday, vowed to step up efforts to promote trade and investment and increase effective market access.
The statement was issued on the sidelines of the 12th China-EU Summit held in Nanjing, capital of Jiangsu Province in east China.
Related readings:


 Wen adresses China-EU Business Summit


 China, EU ink five agreements


 Fifth China-EU business summit to be held in Nanjing


 12th China-EU summit to be held in Nanjing
Chinese Premier Wen Jiabao attended the meeting with President of the European Council and Swedish Prime Minister Fredrik Reinfeldt and European Commission President Jose Manuel Barroso.
The two sides shared the view that economic and trade ties between China and the EU were an important and integral part of the comprehensive strategic partnership, said the joint statement.
They agreed to step up efforts to promote trade and investment and increase effective market access in order to deal with the economic crisis. The European Union appreciated the efforts of China to undertake trade and investment promotion missions to Europe.
In the statement, leaders reaffirmed their commitment to the High Level Economic and Trade Dialogue (HED). China and the EU agreed on the importance of using all avenues to expand economic openness and reform in their relationship and in their respective economies to ensure an open, stable and predictable environment to create business opportunities.
The joint statement said China and the EU would seek to facilitate trade and investment among small and medium-sized enterprises (SMEs) and explore possibilities of cooperation in other areas, including trade finance and technology trade.
Both sides would work together to enhance trade and investment opportunities arising from the move towards a green economy. In this context, both sides welcomed the fifth China-EU Business Summit and its focus on the "Green Agenda: Sustaining Growth Beyond Recovery."
They agreed that efforts to stimulate demand should be based on transparency and non-discrimination. They recognized the importance of open and non-discriminatory government procurement policies and agreed to pursue efforts to increase exchanges in this field.