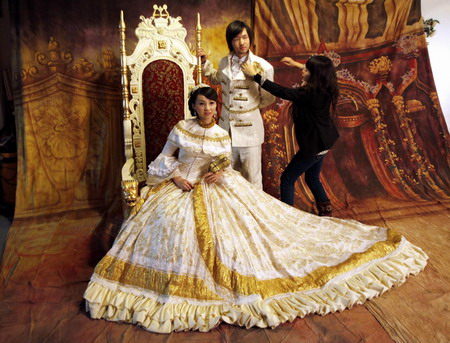 A photographic assistant makes final adjustments to an engaged Chinese couple posing for their wedding photographs dressed in 'royal' costumes at a studio in central Beijing November 27, 2009. [Agencies]
BEIJING: Meng Ni and Fan Zhiqing said "I do" to each other in the same month that they said "we do" to their real estate agent.
China is in the midst of a golden age of weddings, a boon for businesses from photo studios to global platinum miners. Yet nowhere is the economic impact so potentially profound as in the housing market.
A flood of newlyweds such as Meng and Fan buying their first homes could help power China's property sales for years, even as some investors fear that prices are already in dangerous bubble territory.
Related readings:


 Young couple bumps into housing dilemma


 TV hit mirrors housing dilemma among urban youth


 China denies to release rural land to curb housing prices


 Housing value ranking 'insensitive' to public concern


 China's housing prices expect slight dip in Q4
"My husband and I preferred to have our own home rather than rent one as before, because marriage stands for a new start and we are building a family now," Meng said, sitting in their tidy, studio apartment.
Their story may seem perfectly normal, even universal, at first glance. What makes it more powerful is that Meng and Fan are part of a demographic bulge of people in their twenties who will be of prime marrying age between now and 2015.
As these newlyweds shell out for their first homes, the property market will enjoy a fount of solid demand. Analysts estimate such couples could mop up as much as 450 million square meters of housing every year, or roughly 16 percent of all that is under construction at present.
Baby-Boomers' Babies
Looking west from Meng and Fan's window, clusters of new apartment buildings fill the skyline. To the east lies a flat, gray landscape of single-storey dwellings that is slowly being swallowed by high-rises.
"The apartments here are fairly small. They're a perfect fit for young couples," Meng said, estimating that three-quarters of her neighbours were around the age of 30.
These are the children of China's baby-boomers, a demographic ripple effect of the country's population surge in the 1950s and 1960s.
They would have been even more numerous had Beijing not launched its one-child policy in the late 1970s to cap family size, but they are still a bigger group than those immediately younger and older than them.
As it turns out, the family control policy has shaped their consumption habits. Showered with attention and gifts all their lives, this generation of only children keep their purse strings loose, unlike their parents.
"They have all grown up since 1980, during 30 years of fast-paced growth, so they don't feel the same need for precautionary savings as their parents," Xing Ziqiang, an economist with China International Capital Corp, said.
Nuptials give them a ready outlet for spending.
Not only are more people getting married, more of those getting married are choosing to have weddings -- and lavish ones at that. The wedding industry is worth about 400 billion yuan a year, roughly a 2.5 percent contribution to gross domestic product, according to official estimates.