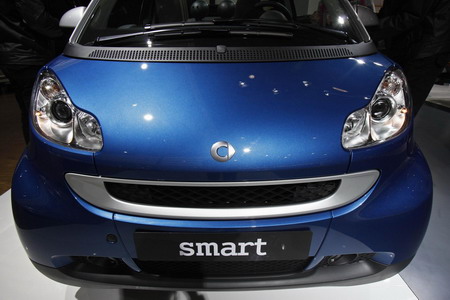 A Smart ForTwo car is displayed at the Guangzhou Autoshow November 23, 2009. China's car makers hope Beijing will renew strong economic incentives that propelled China's car sales to record levels this year even in the face of the global downturn. [Agencies]
More Photos of Guangzhou Autoshow
GUANGZHOU: Car makers from General Motors to Toyota Motor expect China to keep providing much-needed relief from feeble car sales elsewhere next year, even as local brands raise their game to grab a bigger slice of their home market.
China's importance has grown beyond expectations for the auto industry as government steps to stimulate sales nudged it past the United States to become the world's biggest car market this year.
Related readings:


 Guangzhou Auto Show opens to media


 China's motor leader eyes auto plant in the Philippines


 Auto aftermarket attracts big players


 China's BAIC launches new energy auto subsidiary


 Honda, Guangzhou Auto mull capacity expansion
While aggressive tax cuts and subsidies have been behind much of the demand, auto executives gathered at the Guangzhou auto show on Monday said they expected robust economic growth to push sales up at least 10 percent in 2010 even without the incentives.
"I forecast the market will continue to rise next year but not repeat this year's explosive growth," said Yao Yiming, executive vice president of Guangqi Honda, a joint venture between Honda Motor Co and Guangzhou Automobile.
A more measured pace of growth may come as a short-term relief. The exponential growth this year has left many struggling to keep pace with demand and scrambling to add capacity to prevent consumers from fleeing to rival products.
"It's a kind of challenge for next year," Yasuaki Hashimoto, president of Nissan Motor's local subsidiary, told Reuters, referring to tight supply.
Hashimoto said Nissan and its local partner Dongfeng Motor Group aim to boost sales to 600,000 vehicles in 2010 from more than 500,000 units this year. Nissan is currently building a plant in the southern city of Guangzhou adding 240,000 units of annual capacity as soon as two years from now.
Top seller General Motors is also racing to expand sales as it expects a 10 to 15 percent rise in 2010 after an estimated 50 percent jump this year.
"We spend about a billion dollars a year (in China)," said GM China President Kevin Wale. "We have been for the past two years and we expect to do that as we go forward," he told Reuters at the auto show.
Rival Toyota, which launched the Lexus GX460 mid-sized sport utility vehicle in a world premiere at the Guangzhou auto show, said it expects its sales in China to grow 17 percent in 2010, to 800,000 vehicles.
The world's biggest automaker is set to lag the market with a similar pace of growth this year, having fallen behind South Korea's Hyundai Motor and Nissan.