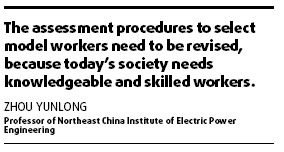 As China entered the 1990s, more and more manual labor began to be replaced with machines. This was especially true after the promulgation of the Labor Law in 1994, which clearly prohibited unlimited overtime.
More importantly, entrepreneurs and managers with insight and courage began to play a more important role in China's switch from a planned to a market economy.
More than 340 entrepreneurs and managers were elected during the eighth National Model Worker Conference in 1989. In 1995, 2,873 people were elected as national model workers, among whom heads of enterprises numbered 409.
"It is not surprising that nowadays when you open the resumes of most of the entrepreneurs and managers of large-scale enterprises, they were all once elected as model workers," says You Zhenglin, associate professor of sociology at China University of Politics and Law.
"Few frontline workers get the honor now, because they have been left far behind by the intellectual group in creating wealth for the country," says You.
In a bid to balance the proportion of model workers from different fields, the State Council decided before the opening of the 1989 conference to guarantee that at least a third of the elected model workers would be frontline workers. It also revised and standardized the selection criteria for model workers.
In 2005, the model worker title was bestowed on basketball player Yao Ming and hurdler Liu Xiang, and Liu Yonghao, one of China's richest men then. The same year, the people's government of Dalian honored seven foreign managers working in the Dalian Development Zone with the title of model worker.
Today's model workers are not laborers in the traditional sense. Those who work in air-conditioned rooms, frequent five-star hotels and drive luxury cars are also deemed entitled to the honor.
Dissatisfaction over the changing profile of model workers has sparked quite a heated debate on the Internet.
According to Professor Zhou Xiaozheng of Renmin University of China, it is a little strange to honor athletes as model workers. "We cannot take athletes as common people, for their success and achievements owe not only to their efforts, but also a lot to the physical quality they are born with," he says. "It is not easy for common people to follow their model."
Some online posters have even sarcastically suggested new selection criteria such as being good at flattery, able to win the hearts of leaders and being skilled at self-promotion.
But many continue to support the new breed of model workers, saying they don't necessarily have to imply meager incomes and low living standards.
"The assessment procedures to select model workers need to be revised, because today's society needs knowledgeable and skilled workers," says professor Zhou Yunlong, of Northeast China Institute of Electric Power Engineering.
"A model worker is one who excels in his field of work, reflecting the values most cherished by a society at a particular period in time.
"Although Yao is not a laborer, he works very hard and worked his way to win honors for the country. He truly is a model worker."