As severe drought threatens crops in northern China, a new study has suggested air pollution could be reducing valuable rainfall.
"Besides the health effects, acid rain and other problems that pollution creates, this work suggests that reducing air pollution might help ease the drought in North China," said lead researcher Yun Qian.
About 2.5 million hectares of crops are seriously affected by the drought and may face crop failure in the provinces of Liaoning, Jilin, Heilongjiang and Shanxi and in the Inner Mongolia autonomous region, the ministry of agriculture said over the weekend. Autumn grain output accounts for more than 70 percent of the country's total grain output.
Related readings:


 Cities set to jointly fight air pollution


 Road sank due to days of rainfall in BJ


 Water, air pollution in China still serious


 'Clean' diesel cars may worsen air pollution


 UNEP official: Beijing makes progress in air pollution control

Drought threatens 8.3m hectare of crops in N China


Flooding, drought may come in wake of typhoon


160,000 people suffer water shortage as drought hits NE China
The drought has quickly expanded in north and northeast China since late July as a result of insufficient rainfall and continued high temperatures.
He Lifu, chief forecaster of the National Meteorological Center, said expected rainfalls in drought regions from Monday to Wednesday may alleviate the disaster.
According to the study published in the Journal of Geophysical Research, air pollution in China's industrial east appears to have significantly reduced light rainfall over the past 50 years, raising the possibility that cutting pollution could ease a severe drought in the country's northeast.
Light rain - anything from a drizzle to 0.4 inches (10 mm) in a day - is also critical for agriculture, as opposed to heavy rain, which triggers floods that can wash away crops.
Researchers from the US Department of Energy's Pacific Northwest National Laboratory found that the number of days of light rainfall decreased in China by 23 percent due to air pollution between 1956 and 2005.
The study could also help further the understanding of how aerosols - tiny air particles caused naturally and by human activity such as burning fossil fuels - affect the formation of rain clouds, researchers said.
The number of water droplets in clouds is higher when there is a greater number of aerosols, but the study found water drops in polluted areas are up to 50 percent smaller than in clean skies. These smaller drops are often not large enough to fall.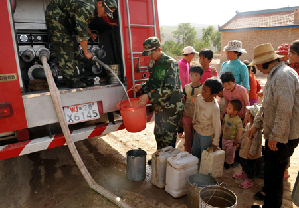 Farmers and children wait to collect water from a water wagon in a drought-hit village in Tianping Township of Xiji County, northwest China's Ningxia Hui Autonomous Region, August 14, 2009. [Xinhua] 
Most of the aerosols in China come from man-made activity, Yun said, and have dramatically increased between 1960 and 2000 as population and fossil fuel consumption have increased.
"It's very interesting for us to know how aerosols can impact the hydrologic cycle in China. It's important for both science and the economy," said Hong Liao, of the institute of atmospheric physics at the Chinese Academy of Sciences.
But Hong, who was not involved in the study, said that while it appeared to show a link, more research was needed to confirm the results.
The study found the decrease in light rain days was not caused by changes in the amount of water held by the atmosphere, or movement of water vapor to East China, so it looked at the role of aerosols.
The study collected rainfall and atmosphere vapor data from 171 weather stations from 1956 to 2005 in eastern China. Over that period, light rain declined significantly at all weather stations, though the southern stations, which get heavy rains, saw an increase in overall precipitation, it said.
The study was supported by the Office of Biological and Environmental Research within the US Department of Energy, under an agreement with China's Ministry of Science and Technology.
AP contributed to the story