* 900 people who escaped Taiwan's typhoon found
* China allocates 15 million USD to typhoon-battered regions

TAIPEI:At least 62 people were killed and 57 others are missing in Taiwan as of 8 p.m. Tuesday local time after Morakot, the worst typhoon to hit the region in nearly five decades, swept across the island.
Another 35 people were injured after the typhoon hit much of the central-south part of the island. The casualty list did not include a crew of three on board a helicopter that crashed during a disaster-relief mission in southern Pingdong.
Related readings:


 Two killed in landslide in typhoon-ravaged E China


 CPC expresses sympathy over Taiwan's losses in typhoon Morakot


 Hotel swept into river after typhoon
Powerful wind paralyzed the power supply for 1.58 million households as of 6:30 p.m. Monday, 1.51 million of which have restored power. Typhoon Morakot also damaged telecom facilities in central-south Taiwan, according to local disaster-relief authorities.
According to statistics released by local agriculture authorities, as of 10 a.m. Tuesday local time, losses in the agricultural and fishery sectors stood at about 6.85 billion New Taiwan Dollars (about 209 million U.S. dollars).
Disaster-relief centers have dispatched helicopters to transport villagers and air-drop goods in mountainous regions in central-south Taiwan where roads and bridges were destroyed by floods.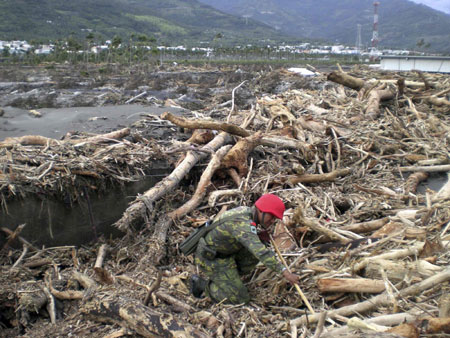 A handout photograph from the Taiwan Military News Agency shows a soldier sifting through debris caused by Typhoon Morakot in southern Taiwan's Kaohsiung county August 10, 2009.[Agencies] More photos
People have started to repair homes and infrastructure in parts of central-south Taiwan where water started to retreat, local media reported.
In Tainan, Kaohsiung and Pingdong, the water supply for 710,000 households was cut off by flood and it was estimated that at least 24 hours are needed to bring the system back to normal.
People from a wide range of social sectors including government, enterprises, entertainment and TV stations donated cash and goods worth millions of New Taiwan Dollars to support disaster-relief work.
Red Cross organizations on both the Chinese mainland and Taiwan have called for people to make donations in relieving the disaster.