All countries need to do more in the fight against climate change, based on the principle of common but differentiated responsibilities, said United Nations Secretary-General Ban Ki-moon on Friday in Beijing.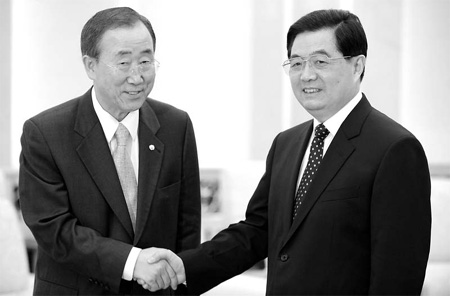 President Hu Jintao (right) shakes hands with visiting UN Secretary-General Ban Ki-moon prior to their meeting at the Great Hall of the People in Beijing on Friday. [China Daily] 

Ban, who has made climate change his top priority, said he was impressed with China's efforts but urged the world's third-largest economy to continue to promote alternative energy, including wind and solar power, and reduce its reliance on coal.
Ban, who is on a four-day visit to China, made the remarks at an event to promote energy-efficient lighting.
"Today, China is a global power and with global power comes global responsibilities," Ban said. "Without China, there can be no success this year on a new global climate framework. But with China, there is enormous potential for the world to seal a deal in Copenhagen."
Nations from around the world will attend the UN climate conference in Copenhagen, Denmark, in December to negotiate a treaty to replace 1997's Kyoto Protocol, which will expire in 2012.
Earlier this month, in Italy, the G8 agreed to reduce carbon emissions by 80 percent by 2050.
The Chinese government supports the UN to play a leading role in promoting international cooperation on climate change, said Premier Wen Jiabao in a meeting with Ban on Friday.
Related readings:


 UN chief: Climate pact must be finalized


 UN anti-drug agency praises China's efforts


 China backs bigger UN role in global fighting against financial crisis


 UN: World hunger reaches 1 billion mark


 UN: climate change deepens disaster risk for poor
"Climate change is about environment as well as development," Wen said. "Developed countries should help developing nations in areas such as funds and technology. This is conducive to the sustainable development of the world."
President Hu Jintao said in his meeting with Ban that international cooperation is required in handling global challenges and regional issues. China will continue to participate in UN initiatives in a responsible and constructive manner, he said.
Experts said developed nations should provide more financial and technological support to developing countries, including China, if they expect them to shoulder more responsibilities.
"China has already done a lot on emissions reduction," said Pang Zhongying, a scholar in international relations at Renmin University of China. "But the international community is watching to see if it can contribute more."
One day before Ban's Friday remarks, a US agency urged China to use the Strategic and Economic Dialogue next week to improve cooperation on curbing greenhouse-gas emissions, AP reported.
In a report, the US Senate Foreign Relations Committee said efforts to address emissions by the US and China could be "the key to a global solution" to climate change.
Also on Friday, Ban Ki-moon's wife - Mrs Ban Soon Taek - met migrant workers and lawyers handling labor disputes in Beijing.
Mrs Ban asked about how to better help workers and handle challenges they have faced.
"I was told there are 200 million migrant workers in China. It is a huge number," she said. "The migrant workers deserve to be protected by the law."
Her arrival at the office of lawyers in Beijing was seen as a morale boost. Guo Zengguang, a 36-year-old migrant worker from Hebei province, said: "Her visit brought us support and confidence."