BRATISLAVA, Slovakia: China has proposed to start cooperative projects in infrastructure construction, new energy, agriculture and environmental protection with Slovakia.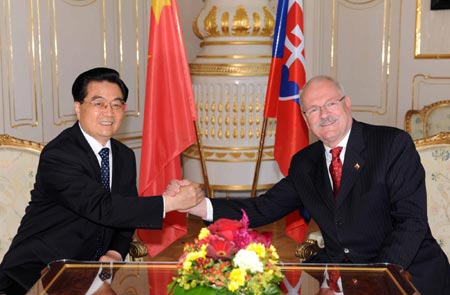 Chinese President Hu Jintao (L) helds talks with Slovak President Ivan Gasparovic at the Presidential Palace in Bratislava June 18, 2009. [Agencies]

President Hu Jintao made the proposal during his talks with Slovak President Ivan Gasparovic Thursday, which Hu termed as "productive".
It was the first visit to Slovakia by a Chinese president since the country gained independence in 1993.
While both presidents recalled the two countries' long tradition of friendship, with no standing conflicts between them, they agreed to promote the all-round development of their relations on the basis of mutual respect, equality and mutual benefit, Hu told press after the meeting.
Hu took the opportunity to express China's wish to forge ties with all countries in Central and Eastern Europe, countries with which China has been friendly for more than 60 years.
The presidents discussed how the countries could work together to mitigate the global financial crisis.
Gasparovic told the press that trade between the countries soared after Slovakia became independent.
Two-way trade rose 72-fold to reach $2.95 billion last year, Chen Jianfu, Chinese ambassador to Slovakia, said in an interview with People's Daily. By 2008, China had invested $15.5 million, while Slovakia invested $31.57 million.
However, the Slovak president admitted the financial crisis has caused the two-way trade to register negative growth this year.
"I hope Slovakia is able to attract more Chinese investors," he said.
At present, several thousand Chinese work, study and do business in Slovakia.
Leading Chinese IT companies including Huawei, ZTE and Lenovo, have opened branches.
Slovakia is attractive because it is in the heart of Europe, and has stable social and economic development, said Zigmund Bertok, Slovak ambassador to China. Moreover, it has good international financial and banking relations as a member of the euro zone, he told China Daily.
"The most striking improvements in the services sector have been recorded by Slovakia, China, and India," Slovakia's Economy Ministry was quoted as saying in May.
"Slovakia and China, which now occupy first and seventh place, have recorded decreases in their risk surcharges, compared to many other developing markets."