MOSCOW - Chinese President Hu Jintao left Moscow Thursday for Slovakia after concluding a state visit aimed at enhancing the Sino-Russian strategic partnership of cooperation.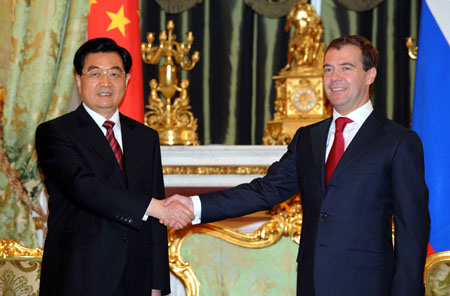 Chinese President Hu Jintao (L) and Russian President Dmitry Medvedev shake hands in Moscow's Kremlin, June 17, 2009.
[Xinhua] 
During his visit to Russia, his first one since Medvedev took office in May last year, President Hu had talks with Medvedev and other Russian leaders to exchange views on how to further develop bilateral ties.
Hu, together with Medvedev, also attended the activities marking the 60th anniversary of the establishment of diplomatic relations between China and Russia.
In Russia's Yekaterinburg, President Hu attended a Shanghai Cooperation Organization (SCO)
summit and the first summit of BRIC countries, namely Brazil, Russia, India, and China.
At the SCO summit, the Chinese leader urged SCO
member states to further promote cooperation in politics, economy, security, culture as well as with the observers.
"The SCO members should continue to implement the treaty of long-term good-neighborliness, friendship and cooperation, make use of the various levels and channels of meetings and negotiations to promote strategic dialogue, coordinate policy, gather consensus, and make efforts for common prosperity, regional peace and stability, and a more just, reasonable international political and economic system," Hu said.
He announced that China would provide a 10-billion-U.S. dollar credit loan to SCO member states to deal with problems arising from the global financial crisis.
At the BRIC summit, President Hu presented proposals for dealing with the ongoing global financial crisis.
He said that BRIC countries should commit themselves to bringing about an early recovery of the world economy, pushing forward the reform of international financial system, implementing the UN Millennium Development Goals (MDGs), and ensuring the security of food, energy resource, and public health.
While tackling the ongoing global financial crisis, efforts should be made to properly handle some outstanding problems that hinder development,
such as climate change, food, energy, resource and public health security, he said.
The Chinese president started his three-nation trip Sunday from Yekaterinburg, and then paid a state visit to Russia after the two summit meetings. He will also visit Croatia.