NANNING -- A traffic collision has left four people dead, including an infant, and two others injured in south China's Guangxi Zhuang Autonomous Region, local authorities said Wednesday.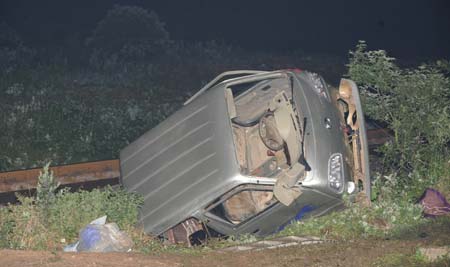 A deformed minitruck lies on the roadside after a crash with a train near Tianmen, central China's Hubei Province Tuesday June 2, 2009. [Xinhua] 
Related readings:


 Traffic collision kills four, injures two in S China


 Effort to avoid woman ends with six-car collision


 Bus-truck collision kills 21 in SW China


 Chinese student killed in NZ car collision


 Bus fell into valley after collision, 18 dead
The accident took place at about 7:40 p.m. Tuesday when a car collided head-on with a parked loaded coal truck near a village in Tiandong County, local traffic police said.
The collision also involved a large tricycle that was passing by. The two people on the cycle were injured. They have been hospitalized.
Large tricycles equipped with trailers are commonly used by vendors.
Police said they are investigating the cause of the accident.