Five hundred people were packed into a Harbin courtroom as two policemen went on trial yesterday for their involvement in a fight outside a nightclub that led to the death of a 22-year-old man in October.
Police said the young man, Lin Songling, was outside a Harbin nightclub on Oct 11 when he accused a policeman of driving dangerously fast, according to sources with the Harbin Intermediate People's Court in northeast Heilongjiang province.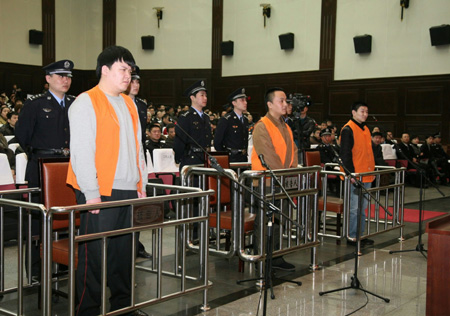 (From left) Defendants Yang Sen, Liu Linan and Qi Xin at a court in Harbin, capital of Heilongjiang province, March 24, 2009. [Xinhua]
The quarrel developed into a fierce fight between Lin, his friends, and six plainclothes policemen that left Lin dead at the scene and several others from both sides injured.
Related readings:


 Prosecutors investigate death of prisoner in N. China


 Probe launched into youth's death in police custody


 Inmate beaten to death in 'hide-and-seek'
All six police were arrested within 12 hours of the death.
The two policemen, Qi Xin and Liu Linan, along with Yang Sen, a classmate of the dead student, were charged with intentional injury, said court sources.
No evidence has been found that the other four officers - Wang Jingang, Li Xinyu, Luan Ao and Li Feng - committed a crime, said Lu Hongxi, deputy head of Harbin public security bureau. However, they were still on bail and their movements were restricted. The case resumed today.
Hu Fengbin, attorney for Lin Songling's family, reportedly told Xinhua that according to China's Criminal Law, the sentence for anyone who intentionally injures another, causing death, could range from 10 years in jail to the death penalty.
The case has divided China's web public into clear-cut sides after a surveillance videotape showing Lin was responsible for escalating the violence was widely circulated across the Internet.
Eyewitnesses claimed that one of the police cursed Lin when the deceased student hit him on the head with a brick. Lin then replied: "Do you know who my maternal uncle is?"
Later investigations by netizens found Lin's "maternal uncle" to be a senior leader in Harbin committee of the Chinese People's Political Consultative Conference, while the brother of his stepmother is said to be an official in a central government department.
Local police said the case would be handled "in a fair, transparent and impartial way no matter who was involved".
In a related development, an arrest warrant was issued yesterday for a 42-year-old policeman who shot a driver to death after a dispute in the southwest Yunnan Province.
Ji Zhongchun, a policeman with the Public Security Bureau of Mengzi County, was arrested on a charge of murder after he shot to death Pan Jun, a 40-year-old employee of a local electric power company, on Feb 13. Ji was backing up his car when Pan said his car was scratched. Pan beat Ji during the quarrel, and then Ji shot Pan to death.
China Daily - Xinhua