KUNMING -- An inmate who allegedly died during a game of "hide-and-seek" in a southwest China prison was actually beaten to death, prosecutors announced Friday.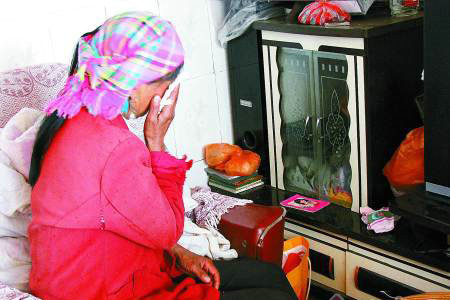 Relative of Li Qiaoming sobs at his unsual death during an  "hide-and-seek" game in prison, as the police alleged, in Jinning county southwest China's province, Friday February 20, 2009. [yunnan.cn]
Meanwhile, police in Yunnan Province have sacked one official and punished three others in the on-going investigation into the death of Li Qiaoming, 24, from Yuxi City, who was detained in Jinning county on January 30 for felling trees without authorization.
Li had been frequently bullied by inmates Zhang Houhua, Zhang Tao and Pu Huayong, and suffered wounds to the head and chest, said Liu Xiaokai, spokesman with the provincial procuratorate.
At about 5 p.m. February 8, the trio asked Li to join them in a "hide-and-seek" game, and covered his eyes with a piece of cloth, Liu said.
Then the trio allegedly began beating him and Pu is alleged to have punched Li on the head so that he struck a wall and passed out.
He was later taken to hospital, but died on February 12.
Liu said the three inmates colluded to fabricate a reason for Li's death, claiming he struck the wall himself in the game.
An autopsy found that Li had fatal brain injuries, which were resulted from several blows, said Liu.
Liu said the procuratorate had obtained evidence from a site investigation and had testimonies from other inmates.
Liu said the three inmates would probably face charges of assault causing death once the investigation was concluded, but he declined to say when that might be.
Three senior officials were removed from their posts for dereliction of duty in connection with the death, said Yang Jianping, spokeswoman of Yunnan provincial public security bureau.
They were Yan Guodong, vice director of the Jinning police bureau who was in charge of prisons, Yu Chengjiang, head of the Jinning prison, and Jiang Ying, vice head of the prison.
Li Dongming, a police officer in charge of Li's cell block, was sacked.