Chinese stocks surged on Thursday after the central bank announced the biggest interest rates cut in 11 years, but then pared back most of the gains as worries over the economy resurfaced.
The People's Bank of China (PBOC) Wednesday cut the benchmark one-year savings and lending rates by 1.08 percentage points, the most radical move since October 1997 when the PBOC slashed the savings rate by 180 basis points and lending rates by 144 bp in response to the Asian Financial Crisis. What also came was a drop in the reserve requirement ratio for the commercial banks: 1 percentage point for major banks and 2 for small and medium lenders.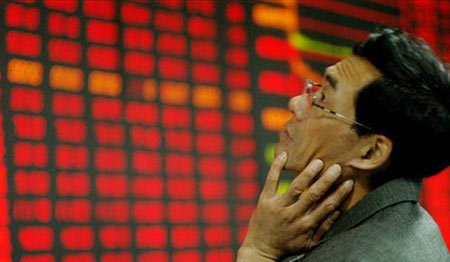 A man monitors stock market prices in front of a board displaying the Shanghai Composite Index at a brokerage house in Fuzhou November 27, 2008. [Asianewsphoto]
Analysts estimated that the latest central bank move will reduce domestic firms' borrowing cost by 30 billion yuan, based on the country's newly added loan balance in 2007. The lower reserve ratio meant some 660 billion yuan of previously frozen funds would be available for lending, adding badly needed liquidity to the economy.
Related readings:


China chops rates to revive economy


Great engine of China slows


NDRC: Economic indicators worsening


Premier calls for support of SMEs
Equity investors turned euphoria at the massive monetary easing and went on a buying spree, sending the Shanghai Composite Index to jump 6.56 percent at 2,012.69 points at the opening bell. The gauge climbed further to an intraday day high of 2,022.48 points, as buyers continued to pile on.
However, investors' enthusiasm subsided, as they digested what is behind the central bank move. Some investors interpreted this as a sign of a severe economic downturn.
Their worries were somewhat confirmed by the country's top economic planner. The downside risk to China's economy is increasing, as the global financial crisis continue to unfold, said Zhang Ping, minister of the National Development and Reform Commission on Thursday.

"Some economic indicators in November are showing signs of an accelerating slowdown," he told a press conference in Beijing.
Stock investors also doubted the actual effect of the monetary loosing on the world's fourth largest economy. Commercial banks may be reluctant to lend, as they fear a jump in default in times of an economic downturn, analysts said.
As a result, the original excitement gave way to worries, prompting a new wave of selling. Investors who bought shares in the previous sessions also dumped their holdings to lock in gains. The huge selling pressure forced the Shanghai index to decline steadily from its intraday high before closing at 1,917.86 points, an increase of 1.05 percent over the previous close.