LHASA  -- The death toll has risen to seven, and one person remains missing, as a result of the worst snowstormon recorded in Tibet, the local authority said on Thursday.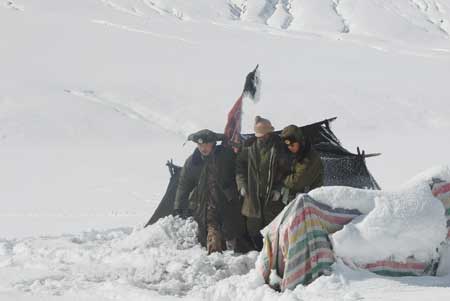 Soldiers rescue a farmer stranded due to heavy snow in Shannan prefecture, southwest China's Tibet Autonomous Region Oct. 30, 2008. [Xinhua]
About 144,400 heads of livestock died in the storm, which also knocked out telecommunications and traffic in parts of Shannan prefecture.
Another 1,300 people remain stranded by damaged buildings or blocked roads in Lhunze, Cuona and Comai counties, an official from the Shannan prefecture government told Xinhua.
The storm, which started on Sunday, dumped close to 64 cm of snow in one county. It continues to fall throughout the region, said the Tibet Autonomous Regional Weather Observatory.
The seven people killed either froze to death or were crushed by collapsing buildings, said the official.
A bulldozer cleans snow on the Sichuan-Tibet road in Nyingchi, southwest China's Tibet Autonomous Region Oct. 30, 2008. (Xinhua Photo) Photo Gallery>>>
More than 1,700 people who had been stranded, have been moved to other villages, sleeping in schools or government buildings.
Armed policemen and transportation officials are working to clear snow on the plateau, local officials said.
The Tibet regional civil affairs department has allocated relief materials such as clothes and tents to the affected areas.