President Hu Jintao on Friday criticized some officials for their perfunctory work style, lax management and lack of responsibility, saying the Communist Party of China faces an unprecedented heavy task in building itself.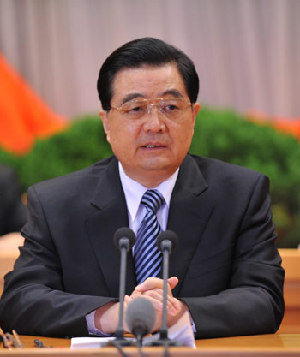 Chinese President Hu Jintao addresses the opening of a seminar for the country's ministerial-level leaders in Beijing September 19, 2008. [Xinhua]
He made the remark at a meeting attended by provincial and ministerial-level officials at the Central Party School, which discussed promotion of the scientific outlook on development - a guiding principle for China's economic and social development - among all Party members. All members of the Standing Committee of the Political Bureau of the CPC Central Committee attended the meeting.
Related readings:


 Shanxi mudslide death toll 259


 Corruption suspected in mudslide tragedy


 Traffic accident kills six, injures 27 in C. China


 Death toll rises to 25 in Xinjiang bus accident


 7 dead, 3 missing in central China coal mine cave-in
"Some officials have ignored public opinion and turned a blind eye to people's hardships, and even major issues that concern the lives of the masses of people We must learn a painful lesson from the recent accidents" that have caused great losses to people's lives and property, Hu said.
He was apparently referring to the recent mudslide in Xiangfen, Shanxi province, which killed nearly 270 people, and the milk contamination incident which has killed four children and caused urinary tract problems, including kidney stones, among more than 6,200 infants.
"Only when we strive to solve the pressing problems facing our officials and always put people first... can the Party lead the people to achieve a moderately well-off society," he said.