GUANGZHOU -- A fire at a club in Shenzhen of south China's Guangdong Province left at least 43 people dead and 88 others injured on Saturday night, local police said.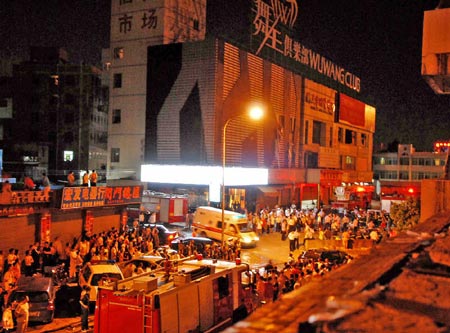 Onlookers and the rescue staff gather in front of the "King of the Dancers" night club in Shenzhen after a fire broke up which killed at least 43 in the club, September 20, 2008. [sina.com]
Among those injured, 51 people needed treatment and were being treated in hospital. All were in stable condition, doctors said.
The fire broke out at about 11 p.m. at a club, named "King of the Dancers," in Longgang District in Shenzhen City, when hundreds of people were watching a performance.
According to police's initial investigation, the fire was triggered by fireworks ignited during the performance on the third floor of the club.
There was only a narrow aisle, about 10 meters long, in the hall. Many people got hurt in stampede, said Yang Zhi, a club staff member who survived the fire.
"I saw people rushing out at about 11 p.m. and all light were off." Yang wetted his clothes and followed the others. He got burns on the neck.
The fire was extinguished at the night. Most of the injured were the audience, police said.
The province has set up a special working team for the case. An investigation has begun.