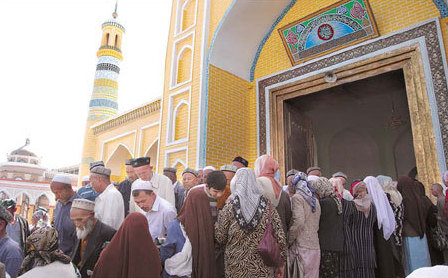 Muslims walk out of the Id Kah Mosque after afternoon prayers during the Muslim holy month of Ramadan in kashgar, Xinjiang. [Hu Yinan]
Kashgar, XINJIANG -- A month after a brutal terrorist attack near its front entrance, the three-storey Yijin Motel in this largely Uygur city re-opened for the Muslim holy month of Ramadan.

Related readings:


Police kill six, arrest 3 over Xinjiang killings


Two police killed in Xinjiang attack


Bombings dampen tourism prospects


Blasts rock Xinjiang, guard killed
China's westernmost city saw a sharp drop in the number of tourists this year, but the faithful have flocked here for this holiest of months in the Muslim calendar. Life in this oasis on the edge of the Taklimakan Desert seems to have returned to normal.
"Most of our guests are Uygurs, so we only have Uygur signs in our rooms. We're doing fine, only that tourism here has been bad in general because of the violence this year," a Yijin staff member told China Daily. "But the degree of tension has been exaggerated by outside media. I've been in Kashgar for more than 40 years; people get along here just like they do elsewhere."
On Aug 4, two Kashgar natives brutally attacked a group of border patrol officers, killing 16. According to local authorities, the attackers were both Uygur and were driven by religious extremism to perform jihad.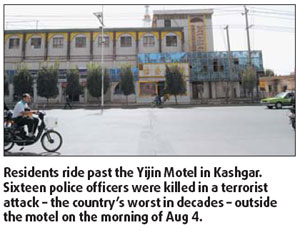 A month later, there are hardly any signs of the tragedy. "This city is very much coming back alive again from that horrible disaster last month," said Nico Rodriguez, an American who has been in Kashgar since June. "It's like nothing ever happened."
At dawn on any given day since the holy month began Sept 1, hundreds of worshippers gather at the Id Kah, which the locals claim to be China's largest mosque, for morning prayers. Beggars, too, flock to the sacred mosque for generous donations.
According to foreign media reports, there has been a marked increase in security here since the attack. Ninety percent of the population here is Uygur, the highest number in the vast autonomous region of Xinjiang.
Visitors to the four-star Tarim Petroleum Barony Hotel, across the street from site of the attack and the Yijin, are required to present their IDs to a pair of Uygur security officers at the door.
"Only the rich stays in Barony," said a staffer at the Yijin. "A single room there costs 580 yuan per night. And they have hired security officers. But it's just as safe here."
There are no security personnel at or around the Yijin, a decade-old motel with 24 shabby rooms. It was closed after the attack. Its eight rooms facing the street are still closed. Another staff member claimed they never opened in the first place. A single room at the motel costs 60 yuan ($8.8) per night, while a suite is 100 yuan. Air conditioning, which costs an extra 10 yuan, was cut off after the attack.
Tensions have not been eased completely. A number of ethnic Han shopkeepers along Seman Road, a largely Uygur section of the city, have relocated. But the ethnically Han owner of the Yijin, who asked that her name not be used, is undeterred. "I know they are not against us," she said. "Few of the staff here speak Uygur but that doesn't seem to bother us."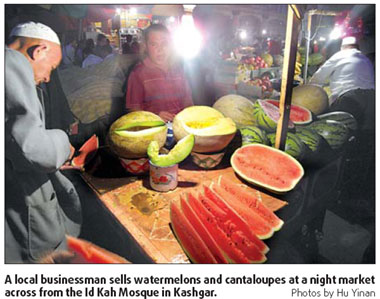 There have also been a number of foreign media reports about a "government clampdown" on religious practices during Ramadan - in particular, on followers observing the sunrise-to-sunset Ramadan fast.
Traditionally, Kashgar restaurants close during the day for Ramadan. Some were closed; others remained open for business, serving lamb kebabs, fruits and tea throughout the day.
When asked about Ramadan dietary restrictions, a veiled female Uygur shopkeeper, who was eating sunflower seeds on a lazy afternoon, pounded on her husband's chest and said: "It's in there!"
"Why need it here?" she said in broken Mandarin while pointing at her own mouth.
Guli, a 19-year-old from Kashgar's Bachu county, is aware that there have been heightened security measures, but they hardly affect her. "I don't feel them. Young people like us don't normally observe the fast anyway; only the older generation does, and I don't see how they can be prevented from doing so," she said.
"Why should I (be afraid)?" she continued. "You know what terror is? Terror is the bad thing that happens when you least expect it to. What happens around the clock is called life, not terror."
"There is little feeling of terror here, unless you want to feel it. We're just living the same old lives, " she added.
Nurlan, a 56 year-old Muslim taxi driver, said the August bombing is the most brutal attack he has yet seen, and that such tragedies will not be replicated. "I observe the fast. We all follow the Holy Scriptures here, so you always have many more good people than bad," he said.
"I think Kashgar is safe - safer than most places, and definitely those to the west of us. Whatever other people may say, nothing can destroy our lives," he said.
Kashgar prefecture borders Pakistan, Afghanistan, India, Tajikistan and Kirghizstan. It is home to 3.6 million people.