WENG'AN, Guizhou - The two men who were with 17-year-old Weng'an resident Li Shufen before she jumped in a river late last month said on Friday they did not rape her, following autopsy reports confirming that the girl had drowned.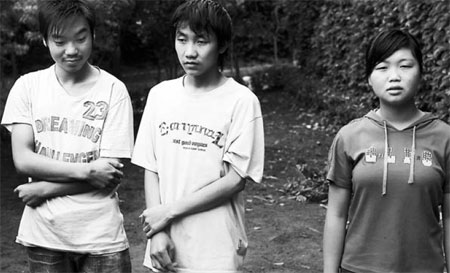 (From left) Liu Yanchao, Chen Guangquan and Wang Jiao, friends of Li Shufen, the 17-year-old girl who drowned in a river in Weng'an late last month, speak to reporters on Friday in the county in Guizhou province. The trio was with Li before she died. [China Daily] 
Both men said they jumped into the river on the night of June 21 to try and save the girl, even though they could not swim well and one has a leg injury.
Their claim was the latest development in the controversial death of Li that led to demonstrations in Weng'an county over the weekend involving more than 30,000 protesters.
Authorities had concluded that Li drowned, but her family and protesters had said she was raped and killed.
Related readings:


 Police chief sacked after violent protest in Guizhou


 Guizhou officials admit residents harbored grievances

 Social grievances behind violent protest in Guizhou

 Guizhou official: Third finding on rape claim to be made known


No officials' kin involved in girl's death in Guizhou


Up to 30,000 took part in Guizhou mass action
On Wednesday, a team of forensic scientists from Guiyang, the provincial capital of Guizhou, conducted a third autopsy on Li to check whether she was raped before jumping into the river.
The third postmortem examination confirmed the results of two previous autopsies carried out by forensic scientists at the county- and prefecture-level, that the girl had drowned and there was no sign of her having had sex before she jumped into the river.
"I didn't rape her," Chen Guangquan, 21, said. He said he had been Li's boyfriend for several days despite having known her for less than a month.
Injured in the right leg from a car crash two months ago, Chen said he had also jumped into the river to save the other man, Liu Yanchao, 18, who was struggling after trying to save Li.