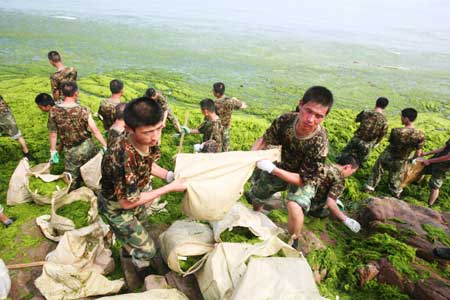 Soldiers join to remove green algae from the sea at Qingdao July 3, 2008. The city will host the Olympic sailing events. [Ju Chuanjiang/China Daily]
More than 10,000 local residents are taking great efforts to clean up algae to ensure the coming Olympic sailing competition goes smoothly.
The algae is being referred to as hu tai, meaning water-borne lichen.
More than 290,000 tons had been cleared away by July 3.
Related readings:


 Qingdao rush to tackle algae bloom around Olympic venue


 Cleaning up beaches covered in algae


 Sailing city moves to clean up algae


 Qingdao vows to clean algae invading Olympic venues

The bloom appeared at the beginning of June, in a sudden natural oceanic disaster.
The hu tai in Qingdao's waters actually originates from further down the coast near the central area of the Yellow Sea, according to Zhu Mingyuan from the First Institute of Oceanography of China's State Oceanic Administration.
At present the local government is blocking algae from floating into the competition zone, cleaning-up the sea and clearing algae away from the shores, with the goal of clearing the competition zone by July 15.
Responding to the task the Qingdao government has co-opted more than 10,000 local residents, 1,000 boats and 200 trucks with the mayor of Qingdao, Xia Geng, reaffirming his commitment to take effective action.