BEIJING -- A dozen people were killed and millions were affected as rainstorms continued to lash south China over the past two days, local authorities said on Friday.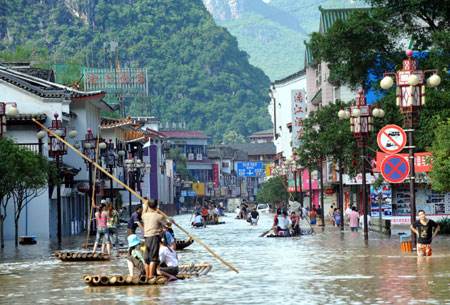 Local residents ride bamboo rafts as a rainstorm continues to lash Yangshuo, Guangxi Province over the past two days, June 13, 2008. [Xinhua]
Torrential rains also destroyed more than 10,000 houses, disrupted traffic and caused landslides in the provinces of Jiangxi, Hunan, Hubei and Anhui, Guangdong, as well as Guangxi Zhuang Autonomous Region.
Precipitation exceeded 300 mm in several counties and 250 mm in more than 20 during the last two days in Guangxi and Hunan.
Five people were killed in landslides and house collapses in Guangxi. More than 1.58 million were affected as of Friday morning.
About 40 trains were delayed on Friday due to rain in Guangxi. Trains had to go slowly along major sections of track in Liuzhou, Guilin and Hechi.
Parts of the regional No. 202 and No. 318 highways were blocked by landslides, causing a loss of more than 25 million yuan (uS$3.6 million).
Navigation on the picturesque Lijiang River in scenic Guilin City had to be suspended because of a lengthy downpour, the local marine affairs administration said. Travel agencies issued emergency refunds to tourists who had signed up for boat trips.
The water level at the Wuzhou section of the Xijiang River surpassed the warning level of 18.5 m on Friday morning, and the level continued to rise by 0.1 m per hour. It was expected to reach 22 m by 8 a.m. Saturday.
Wuzhou, a city near Guangxi's border with Guangdong Province, was ravaged by the worst flooding in 100 years in 2005.
The rain was expected to move eastward and weaken since Friday afternoon.
In neighboring Hunan, the worst-hit province in the severe winter this year, more than 50,000 people were evacuated in Yongzhou City as rain hit several counties. Jianghua County, where water depths reached 5 m, started the first class response on Friday.
Flood-prevention activities were undertaken in cities along the Xiangjiang River, a major tributary of the Yangtze River, as its water level would surpass the warning level in the coming days, according to a flood prevention conference on Friday.