SHENZHEN: A citywide drive has been launched to rescue children working in Dongguan, a manufacturing base in Guangdong province.
The action follows a newspaper report on Monday that said hundreds of underage workers were being employed by factories.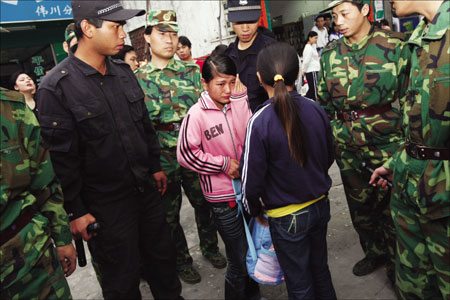 A young girl from Sichuan Province cries on Monday after being rescued by security guards from a factory in Dongguan, Guangdong Province, where she had been forced to work. [Southern Metropolis Daily]
More than 1,000 children, aged between 9 and 16 from poor families in Liangshan, Sichuan province, have been lured to Dongguan, Shenzhen and Huizhou in the Pearl River Delta area, to work as cheap labor in factories, Southern Metropolis Daily reported.
In the town of Shipai, Dongguan, which the report identified as a major center for cheap labor, a special team led by the town's chief has been set up to crack down on the practice.
"Our labor enforcement and trade union will investigate all companies in the town, the labor market and agencies," Wang Yongquan, a spokesman, said.
So far, police have rescued more than 100 youngsters from rented houses in the town and arrested several people, Wang said.
Liu Zhigeng, Party secretary of Dongguan, has instructed the police and labor departments to rescue all youngsters as soon as possible and punish the people responsible.
An underground organization has been luring the youngsters from Liangshan to Dongguan and forcing them to work in the factories directly or through employment agencies, the newspaper reported.
People in the organization, who have established close contacts with companies, earn 200 to 300 yuan ($29-$43) for each worker. While leaders of the organization, who are responsible for encouraging the youngsters to leave their hometowns, can earn about 100,000 yuan each within three months, the report said.
The children earn about 2.5 yuan to 3.8 yuan an hour and are forced to work long hours, it said.
He Zhujian, chief of the labor enforcement team in Dongguan, said: "Most of the employers are medium-to-small companies. Most small firms are not registered with the labor departments and try to cut operational costs."
Hou Yuangao, a professor with the Central University for Nationalities, said it is poverty that drives families to send their children to work.
"In Liangshan, where farming alone cannot support a family, children as young as 8 or 9 are sent out to work. Many parents are happy their children are earning several hundred yuan a month," he said.
One mother burst into tears when she learned her son had been sent to work thousands of kilometers away, but when she heard he was provided with a rice meal every two or three days, her tears dried up, the newspaper reported.