The country's rural population is poised to have a larger say in its political, economic and social issues, with the coming amendment of the Election Law giving equal representation to residents in the countryside and urban areas.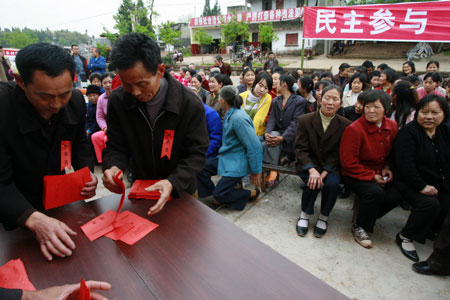 Farmers in Suining, Sichuan Province, cast their ballots to elect village affair supervisors earlier this month. The supervisors are representatives who pass villagers' suggestios and complaints to the local government and Party officials. [China Daily]
The amendment has been scheduled for December, an annual legislative agenda of the National People's Congress (NPC) Standing Committee released Tuesday stated.
The present Election Law stipulates that the number of people represented by a rural NPC deputy is four times that of an urban deputy. Many academics have argued that such a rule is unfair to the country's 700 million rural residents, as they do not have the same say in congress as their urban counterparts.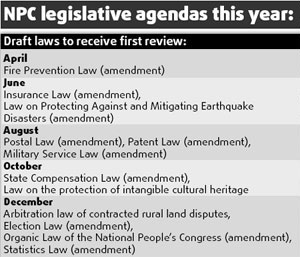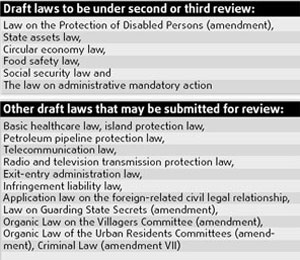 Jiang Enzhu, a former senior NPC official, said the 4:1 ratio was based on Chinese society when the Election Law was first amended in 1995. Before 1995, the ratio was even wider.
"However, with progressing urbanization in China, such a stipulation needs amending," Jiang said. "It's necessary to give equal representation to the two groups."
Besides the amendment to the Election Law, a draft arbitration law of contracted rural land disputes, to be submitted for a first review in December, is also noticeable.
Such disputes have become a major point of contention in the country's vast rural areas, resulting in incidents involving large numbers of people in some cases. In recent years, the State Council has issued several documents urging the proper handling of such problems.
Other important laws on the agenda include the draft food safety law, which aims to raise standards and reinforce supervision; the State assets law, to protect State-owned property; and the law on administrative mandatory action, to prevent government abuse of power.
But a number of expected draft laws, such as a law on the correction of illegal acts and the 7th amendment to the Criminal Law, are not on the agenda.