LHASA: Five weeks after the March 14 riot in the Tibet autonomous region, visual reminders of the rampage linger like the fears in the hearts and minds of Lhasa residents.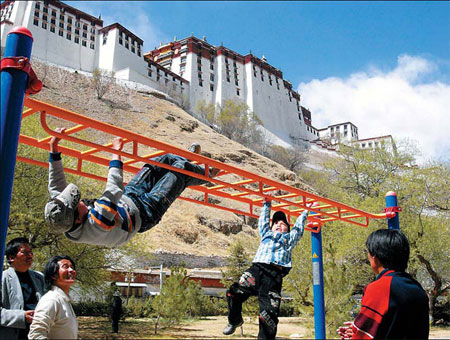 Two boys play in a park near the Potala Palace in Lhasa April 20. Fear stemming from last month's riots lingers on five weeks later. [China Daily]
Nightmares of the unrest have produced a collective longing for peace and a return to normality.
Most of the stores which survived the March 14 riot unscathed, and some that suffered only minor damage, have reopened and peace as order prevail on the streets again.
Walking around the Potala Palace, any newly arrived visitors to the eastern part of the city are intoxicated by the blend of elegance and peacefulness synonymous with Lhasa.

Freshly greened crowns of aged willows, pink and yellow blossoms at the foot of the formidable palace, water birds frolicking in and above the Dragon King Pond behind it and the endless flow of people chanting Buddhist sutras with prayer wheels in hand, assure an otherwise perfect visit to the center of Tibetan Buddhism.
But with some suspects wanted by authorities still at large, local residents admit they're still cautious about going out come sundown.
"Nothing has really happened," said Drolma a sales clerk at a small jeweler's store a block from the Jokhang monastery.
"Still we feel a little unsure," she said, after selling two Tibetan-style silver rings to a traveler.
"It was scary on March 14. At first I thought there was a normal quarrel or fight near the square when I heard the noise. But a frightened Hui friend working in another store rushed in, saying there was a rioting mob smashing around.
"So we closed the doors and fled."
"Business has been slack ever since. We could take in thousands (of yuan) a day before - now it's hundreds at best. I sold nothing three days in a row."
"I really do not understand why those people do not want to live a peaceful and comfortable life," she said.
Stores lining the Bakhor and nearby streets around the Jokhang depend heavily on tourist trade and the riot has deprived them of their most important source of revenue. Some were damaged or even destroyed that day.
A little more than a block east of the Potala Palace, near the west end of Beijing Donglu, an Only store, owned by the Denmark-based Bestseller group, remained a charred black hole until Friday when workers finally installed new doors.
Just meters to its east is the Yishion garment store where five young women were burned to death when rioters set fire to the building.
At the site of the previous Niumo Shijia garment store, a little north of Beijing Donglu, on the Duosen'ge Lu, stall owners are holding closing down sales under a makeshift plastic-film roof.
A woman surnamed Liu from Heilongjiang province, who refused to give her full name, said she had only been in Lhasa for nine days when rioters unleashed their fury.
She and her partners had just transported 120,000-yuan worth of garments from Guangzhou but were lucky enough to escape the burning and looting.