A seven-star hotel to be built in downtown Hangzhou has triggered heated debate among local citizens who question whether the luxury accommodations would bring substantial benefits to the local economy, a report on the website Sina.com.cn said.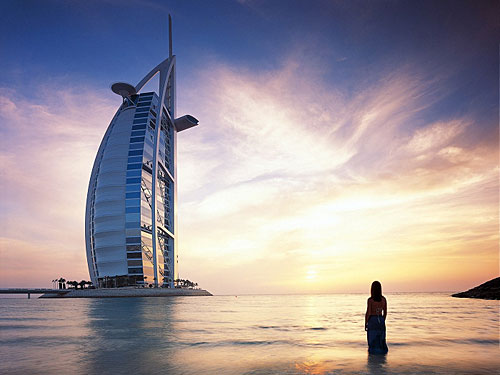 The globally renowned sailboat-shaped Burj Al Arab Hotel in Dubai. [File photo] 
A Guangzhou-based real estate group that invested in the hotel four months ago has scheduled construction to begin by the end of this year and to be completed in 2011. The extravagant hotel, to be located in a thriving business area, is expected to be the equivalent of the globally renowned sailboat-shaped Burj Al Arab Hotel in Dubai.
The real estate group also plans to build office buildings and shopping malls nearby, which would bring the total investment to an estimated 600 million US dollars, the report said.
Hangzhou residents have mixed opinions about the project. Some worry about whether the hotel will be worth the huge investment, arguing that a seven-star hotel goes against the most recognized values of "a thrifty society." Others say such an eye-catching landmark would enhance Hangzhou's name-awareness and promote the local tourism industry, the report said.
"Although ordinary citizens like me couldn't afford such a luxury, the hotel will still make me proud as a resident in Hangzhou," a local was quoted as saying in the report.
Some tourists from other places expressed curiosity about the hotel and said they would likely visit Hangzhou again to have a look at it, according to the report.
As the provincial capital of Zhejiang province, Hangzhou is well-known for its natural beauty, and its economy largely relies on tourism.