People of various ethnic groups living in Tibet have benefited from reform and development, Qiangba Puncog, chairman of the Tibet autonomous regional government, said Wednesday.
"They are the real beneficiaries," he said, citing figures on Tibet's development to counter the Dalai Lama's claims of "cultural genocide" and that the benefits of Tibet's development have been taken away by Han people.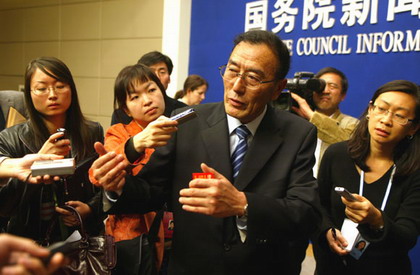 Qiangba Puncog, chairman of the Tibet autonomous regional government, is surrounded by reporters after a press conference April 9, 2008. [China Daily]
"The Dalai Lama's claims are lies to instigate antagonism between various ethnic groups and to cheat the international community," Qiangba Puncog said.
Over the past seven years, Tibet's gross domestic product has grown by more than 12 percent a year. Last year, its GDP was 34.2 billion yuan ($4.88 billion) and its per capita GDP 12,000 yuan, he said at a news conference.
In the past five years, the central government has given Tibet 94.7 billion yuan in subsidies and spent 60.1 billion on infrastructure construction, he said.
The average life expectancy for people in Tibet is now 67, up from 35.5 in the 1950s, he said. The total number of Tibetans is currently 2.5 million - about 95 percent of the total of the region's population - up from 1.2 million in 1964, Qiangba Puncog said.
Last year, after double-digit annual growth for the past five years, the average income of farmers and herdsmen was 2,788 yuan, he said.
"After the March 14 riots in Lhasa, the various ethnic groups in Tibet will have a deeper understanding that stability will bring them fortune while turbulence will only bring them misfortune," he said.
"The Dalai clique's attempts to seek 'Tibetan independence' by disrupting the Olympics are doomed to fail.
"No matter what happens, our determination to safeguard the unity of the motherland, protect ethnic groups and preserve social stability will remain unchanged.
"Nothing can shake this stance and determination. We firmly believe the Beijing Olympics will be a success."
By the end of last year, 612 townships - almost 90 percent of the total - had been connected by roads, and all townships had been linked by telephone.
Since the Tibetan government launched a program in 2006, more than 590,000 farmers have been given new homes. By 2010, the program will build homes for 220,000, he said.