The Ministry of Land and Resources Wednesday ordered its provincial offices to prepare for possible natural disasters triggered by extreme weather conditions.
Over the past two days, several southern and eastern provinces have been hit by hail- and thunderstorms, sparking concern that this year's flood season might start earlier than expected.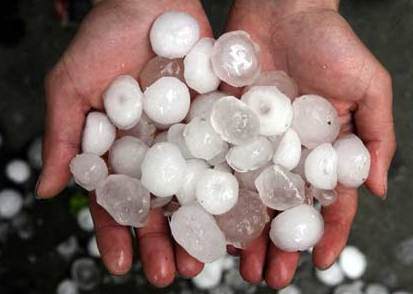 A person shows hailstones in Chang'an Town of Haining City, east China's Zhejiang Province, April 8, 2008. Hailstones hit parts of Zhejiang and central Hunan and Hubei provinces Tuesday, causing damages to houses and cars. [Xinhua]
Hunan and Hubei provinces in the south of the country and Jiangsu, Jiangxi and Zhejiang provinces in the east have all been hit by storms and heavy winds.
In Hubei, at least eight people have been killed, while hundreds of thousands have been affected.
Yuan Xiaosu, vice-minister of land and resources, said during a televised meeting Wednesday: "Heavy rainfall could lead to geological disasters, such as mudflows and landslides.
"Local land departments should send work teams to areas where heavy rains are forecast in order to identify potential dangers and set up facilities to deal with emergencies as they happen."
Once the national emergency response system is finalized in 2010, experts from the ministry will be able to join on-the-spot crews, provide remote assistance and help with disaster-relief work, he said.
Officials in Olympic host cities, should be especially vigilant for possible dangers around highways and railways, tourist spots, schools and large construction sites, as the Games will be held during the flood season, Yuan said.
They should forward their findings to the land ministry as soon as possible, he said.
Officials in Chongqing municipality and Hubei province should also speed up their flood preparation plans to guard against potential disasters in the Three Gorges Dam area, Yuan said.
Over the past year, 251 hi-tech GPS monitoring stations and almost 1,900 observation spots manned by villagers have been set up along the Yangtze River.
The system last year provided advance warning of 78 landslides so that 11,300 people could be evacuated, none of whom were hurt, he said.
Land departments around the country last year forecast 920 geological disasters and in doing so saved almost 38,000 people from potential danger, the Ministry of Land and Resources said.