An increasing number of Beijing residents are content with the improving air quality of the city, as it is in full swing to stage the upcoming Olympic Games in August.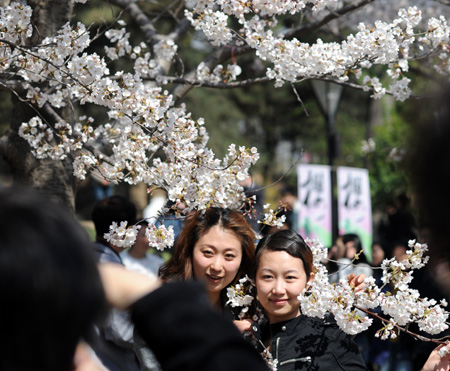 People enjoy the spring sunshine at a park in Beijing, March 30, 2008. A poll found an increasing number of Beijing residents are content with the improving air quality of the city. [Xinhua]
Two thirds of Beijing respondents, or 66 percent of the investigated during a recent survey, done by the Gallup Poll, say the problem of the city's air pollution has turned for the better, up significantly from 53 percent in 2006.
Related readings:


 IOC: Beijing air quality not to harm athletes

 Rogge: China making progress on air quality

 Official denies tricks behind Beijing air quality monitoring


 New emissions standards help improve air quality
The notorious sand storms, which used to blanket Beijing during early spring season, have not come this year. On the contrary, sunny days and spring blossoms have cheered Beijing residents and visitors up.
Some Olympic athletes have cited concerns about air quality as a reason for possibly skipping some of Olympic events they would normally compete in this summer.
Although the International Olympic Committee's top medical official, Arne Ljungqvist, admitted pollution could affect athletes' performance in some cases, he said that the pollution levels posed no serious danger to them, said a report on the website of Gallup.
In an effort to meet World Health Organization standards for air pollution and to live up to promises of a "Green Olympics," Beijing authorities has implemented new car emission standards on March 1 that now match those currently used in the European Union. And, the city will restrict the total vehicles running on the streets, starting from July.
With only a few months left before the Olympics begin, Chinese authorities hope their efforts to reduce air pollution in Beijing will prove successful.