Under the deliberate planning and guidance of the Dalai Lama clique, a group of mobsters launched an orgy of violence, looting and burning in Lhasa, capital of China's Tibet autonomous region, on March 14.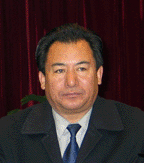 Doje Cezhug, mayor of Lhasa.
Their barbaric crimes ripped the peace and tranquility of Lhasa and threw the ancient scenic city into chaos and turbulence, causing enormous losses to innocent people and their property. The smooth momentum of regional development has also been seriously affected.
The Dalai Lama clique and some biased Western politicians and media, however, have described the obviously-organized violence as a "peaceful demonstration". In the face of cast-iron facts, however, the "peaceful demonstration" has proved a total lie.
They cannot hide their motive: To sabotage the upcoming Beijing Olympics by attempting to catch world attention, and destabilize the peace and unity that has gained ground in Tibet over the past decades.
The Dalai Lama has never discarded political attempts to split Tibet from the motherland. During an interview with British journalists in January, he called on his supporters to demonstrate during the run-up to, and during, the Beijing Olympics.
From March 10, the "Tibetan Youth Congress (TYC), a hardline organization affiliated to the Dalai Lama supporters, launched a so-called "peaceful march" from India to Tibet and announced it would organize violence if they were blocked.
In the wake of the March 14 Lhasa riots, the Dalai Lama frequently issued directions to forces inside China's territory and kept close contact with them in an attempt to escalate the violence.
All this has once again exposed the separatist essence of the Dalai Lama and the hypocrisy of his long-advocated "peace" and "non-violence" slogans.
As a result of the string of violent events that were plotted in Lhasa and regions beyond, 18 civilians have died, hundreds were injured and direct economic losses amounted to 250 million yuan.
The country's Constitution provides citizens the right to assembly and demonstration, but it also stipulates they should be peaceful and should not harm the interests of the country or other people.
The armed rioters on the streets of Lhasa and other regions were by no means participating in a peaceful demonstration - in sharp contrast with the police, who maintained the utmost restraint while trying to stop the violence and restore calm.
On March 14, the major criminals also violated the universally recognized UN Charter and the norms of international relations.
It is completely legal for the authorities in Tibet to bring to justice the criminals who seriously undermined the country's sovereignty and security and also harmed the fundamental interests of the mass of Tibetans.
Tibet and Tibetans have experienced a sea-change in improvements in all aspects since the 1959 democratic revolution.
And with the joint efforts of other ethnic Chinese people, and the firm support of the central government, the accelerating development momentum of Tibet will by no means come to a stop.
The author is mayor of Lhasa