BEIJING - China stressed on Tuesday that United Nations Resolution 1244 is still the political and legal basis of resolving the issue of Kosovo's status.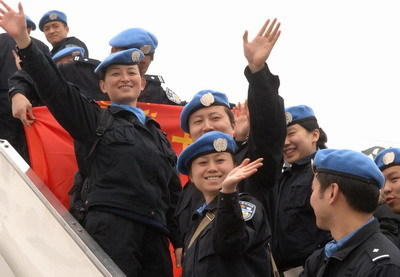 China's peacekeeping police, who will join the UN mission in Kosovo next month, bid goodbye to colleagues and friends before leaving for Langfang, Heibei Province, February 17 2008. The 15 men and three women from Chengdu, Sichuan Province, will undergo intensive training in Langfang before departing for Kosovo. [China Daily]
"Unless the UN Security Council has other decisions which should be abided by, the UN Security Council's Resolution 1244 is still the political basis and legal foundation of resolving the issue of Kosovo's status," Foreign Ministry spokesman Liu Jianchao told a regular press conference.
Liu was responding to a question about whether China would participate in the UN mission in Kosovo.
He said since 1999, the international presence in Kosovo, including its combination and tasks, had been authorized and approved by the UN Security Council.
"Before adopting any new resolution by the Security Council, any efforts or acts to resolve the Kosovo issue should accord with relevant regulations of the Resolution 1244," said Liu
He said that China would continue to play an active role in the settlement of the Kosovo issue.
China has expressed grave concern over Kosovo's unilateral declaration of independence on Monday.
Related readings:


 Kosovo PM calls for special session of parliament


 Serbian president Tadic vows to preserve Kosovo


 Russia: Kosovo independence will affect Georgian breakaway regions policy


 UNSC urged to reject Kosovo independence


Peacekeepers prepare for Kosovo mission


EU urged not to send mission to Kosovo
"Kosovo's unilateral act can produce a series of results that will lead to seriously negative influence on peace and stability in the Balkan region and on the realization of building a multi-ethnic society in Kosovo, which China is deeply concerned about," said Liu.
Kosovo's parliament voted on Sunday to adopt a declaration of independence at an extraordinary session on its independence from Serbia.
But Serbian President Boris Tadic said that Serbia would never recognize the independence of Kosovo.
Kosovo was a southern autonomous province within Serbia before the breakup of the Federal Republic of Yugoslavia. Among its population of 2 million, more than 90 percent are ethnic Albanians. Serbs make up about 7 percent.
Kosovo has been under UN administration since mid-1999, after NATO air-strikes drove out Serbian forces from the province.
Peacekeeping police
China will send its fifth batch of peacekeeping police to Kosovo in March. It will be stationed there for a year to investigate crimes, traffic policing and to help maintain social stability.