BEIJING - Amid China's worst snow disaster in decades, the Chinese leaders have shown the public a hands-on approach by visiting people working on the front lines of the weather crisis.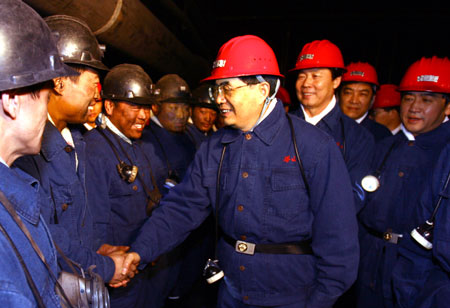 President Hu Jintao chats with miners in a colliery in Datong, Shanxi Province, during a inspection tour on Thursday. He went 400m below the ground to ask the miners to produce as much coal as possible safely to provide more fuel to the country that is reeling under power shortages because of bad weather. [Xinhua] 
After chairing two key meetings in as many days in Beijing, President Hu Jintao took an inspection tour on Thursday to coal fields in Datong of Shanxi Province and Qinhuangdao Port in Hebei province, through which much of Shanxi's coal is shipped.
Hu entered a coal mine more than 400 meters underground, taking an elevator down to meet miners of the Datangtashan coal mine co-op in Datong who had worked overtime in temperatures of minus 20 degrees Celsius to increase supply.
"Disaster-hit areas need coal and the power plants need coal," Hu told administrators and workers of the mine, saying that coal supply had been a crucial part in fighting the snow disaster.
At the side of a facility that transfers coal to vessels in Qinhuangdao Port, Hu told dockworkers to maintain all equipment in good condition and improve the efficiency of coal transportation to vessels.
Power in much of central and southern China has been disrupted by the winter weather and its ensuing effects on coal transport.
The snow, the heaviest in decades in many places, has been falling in east, central and south China for more than a fortnight. It has caused deaths, structural collapses, blackouts, accidents, transport problems and livestock and crop destruction.
Premier Wen Jiabao was also on the road for much of the past three days.
Wen flew out of Beijing on Monday night to Hunan Province but had to land at Tianhe Airport in neighboring Hubei Province because of the bad weather. He completed his journey by train and arrived in Changsha City, the provincial capital, on Tuesday morning.
In Changsha railway station, Wen offered early Spring Festival wishes to stranded passengers.
"I am deeply apologetic that you are stranded in the railway station and not able to go home earlier," Wen told the passengers through a megaphone. "We are now doing our best to fix things up and you will all be home for the Spring Festival."
On Wednesday morning, he arrived in the southern city of Guangzhou, where he reassured stranded rail passengers that the government would try its best to make sure they got home for Lunar New Year family reunions.
"The Premier was in Hubei the day before yesterday and in Hunan yesterday. I do not expect him to come to Guangzhou today despite the rain. I feel warmth in my heart," said a passenger.
Chinese netizens also filled online bulletin boards with heartwarming words to express how moved they were by the leaders' visits.
"After watching the Premier's visits on TV, I feel greatly encouraged," said a netizen whose IP address was from Hebei Province, "I firmly believe that there is no reason we can not fight back against the disaster."
Daniel Cotterall of New Zealand, who is living in Beijing, said that he saw on television the news that Wen went to train stations, telling people not to panic.
"The Premier's visit among the public was great and typical of Premier Wen's style. He was interested in people's real problems, especially those of farmers and migrant workers," Cotterall said.
According to the latest update released by the National Development and Reform Commission (NDRC) on Thursday evening, traffic jams in disaster striken areas had been eased as the army were called in to help clear the ice.
Power supply has been resumed in most of the southern areas except for Hunan, Jiangxi and Guizhou Provinces. Coal supply for power generation has been increased in most needed areas.
Another update from the Ministry of Public Security said that all the airports in provincial capitals and other major airports have resumed flights.