China is unlikely to further tighten its grip on the real estate industry as previous policy measures are now kicking in, predicted Citigroup in a report on Wednesday.
As a key driver of the world's fourth largest economy, China's housing sector has experienced a spectacular run in the past few years, prompting concerns of bubbles. If and when they burst will spell trouble for banks - the most important funding source for developers - and the overall economy.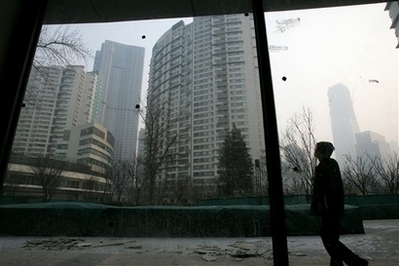 A worker walks past the construction site of a residential building in Beijing Jan. 18, 2008. [Agencies] 
That is part of the reason why the central bank hiked interest rates six times and raised the bank reserve requirement 11 times since the start of 2007. In addition, regulators told banks to cut back on loans to property developers and demand buyers of second apartments to pay a higher down payment and a higher interest rate.
These measures have produced appreciable results, indicated by frequent reports on housing price drops in some big cities, especially in Shenzhen and Guangzhou, both in South China's Guangdong Province.
"Overly tightening and a slump in housing prices will bring about negative effects on China's banking system and the broader economy," Citigroup said in its report.
Independent economist Andie Xie agreed. "Many firms are using land as collateral when borrowing from banks. However, land prices will drop," he said, urging investors to think twice before buying bank shares.
Xie's concerns may partly explain the poor performance of bank shares in the mainland equity market, with the biggest lender, Industrial and Commercial Bank of China losing more than 20 percent in half a month.
On Wednesday, all banks closed in negative territory. Industrial Bank plunged 8 percent, followed by a 5.8 percent fall in China Merchants Bank, the country's biggest credit card issuer.
Property shares hardly fared better. China Vanke, the country's biggest listed property developer has lost more than 18 percent since January 15.
The combined performances of bank and property shares weighed on the broader equity market. The Shanghai Composite Index dived more than 25 percent since January 14. In developed markets, a fall of 20 percent or more within a 12-month period can be called the start of a bear market.
Such a big fluctuation does not surprise Andie Xie. "The A-share market will face a major test this year, and will suffer from big fluctuations," he told a recent financial forum.
He expected the market to fall further. "There are indications," he said.