People earned a lot more last year, thanks to the country's economic boom. But price hikes meant fewer urban residents were satisfied with their lives, the head of a top government think tank said Thursday.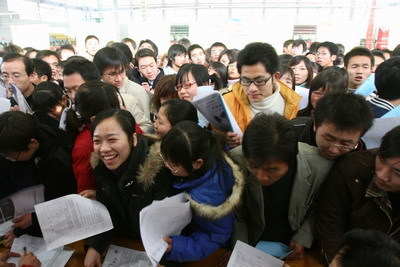 College graduates flock to a job fair in Kaifeng, Henan Province in search of the right opening in December 2007. More than 300 companies offered almost 6,000 jobs at the fair. [China Daily]
Urban residents' disposable income grew about 13 percent last year, and the increase "could" surpass that of the GDP. Farmers didn't fare badly either; their per capita net income rose about 8 percent, the highest since 1997.
These findings are part of the Chinese Academy of Social Sciences' annual report on social development, which was released in Beijing Thursday.
The report, "Society of China: Analysis and Forecast", is based on in-home surveys in Beijing, Shanghai, Guangzhou and other cities, towns and villages. Up to 66.5 percent of the urban and 57.5 percent of the rural respondents said price hike was "the social issue of highest concern" last year.
"Social security" had topped the list in a similar poll in 2006, with "lay-offs and unemployment" being the overwhelming concern between 2001 and 2005.
The rise in the prices of food products and residential units have had the greatest impact on people's lives, the report says. In fact, urban residents are trying to save more to buy property before real estate prices touch the sky.
As a result, the ratio of consumption in the GDP has fallen to its lowest point "in the past several decades" of 36 percent, said the report's editor-in-chief and director of the academy's Institute of Sociology Li Peilin.
Jobless and laid-off people suffered the most because of the rise in prices. And though the unemployment rate remained around 4 percent last year, 1 million of the country's 5 million university and college graduates could not find a job, Li said.
Thankfully, "the most difficult period (of unemployment) is over," he said, referring to the 1996-2001 period. But the situation in Northeast China is still "difficult".
The report includes studies on how urban and rural people spent their income. An average urban resident, for instance, bought 75.9 kg of cereals in 2006, 2.5 kg more than in 2002.
Interestingly, urban dwellers spent 691 yuan ($92) each on an average in 2006 on eating out, 67.3 percent more than in 2002.
In rural areas, people spent 1,217 yuan ($162.3) each on food, 43.5 percent more than in 2002, even though their consumption of cereals, vegetables, oil and sugar went down. Which means they ate more meat, eggs and fish, and drank more milk.
As for housing, an average urban resident had a living space of 22 square meters in 2006, 3 square meters more than in 2002. Rural residents, on the other hand, had 30.7 square meters, 15.5 percent more than in 2002.
The Engel Index, a measure of what percentage of a person's income goes into food, was 35.8 percent for urban residents, 1.9 percent less than in 2002. For rural residents, it was 43 percent, 3.2 percent less than in 2002.
But rural residents, in general, were more satisfied with their life last year, the report says.
Farmers were less worried about old age and more confident of their competitiveness in the job market than in 2006.
But urban dwellers resilience to price fluctuations showed a decline.