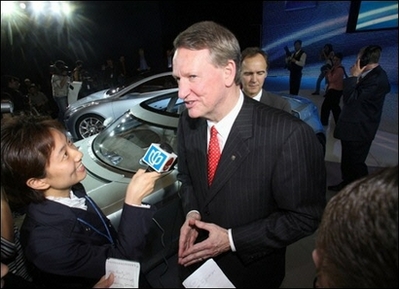 GM Chairman and CEO Rick Wagoner speaks with Chinese journalists next to the Buick Riveria (rear) and the Chevrolet Volt concepts at the Shanghai Auto Show, in April, in Shanghai, China. [Agencies]
BEIJING - US auto giant General Motors' China joint venture has recalled 7,056 Buick cars sold in China due to problems with their front brakes, Chinese media reported on Monday.
Shanghai GM, a joint venture between GM and China's biggest carmaker Shanghai Automotive Industry Corp., will make repairs to the cars free of charge, Xinhua news agency said, quoting the nation's product quality watchdog.
The affected vehicles are Buick LaCrosse sedans made between March 10, 2006 and March 22, 2007, it said.
The problems may cause vehicle vibrations, affecting driver control, the General Administration of Quality Supervision, Inspection and Quarantine was quoted as saying.
The joint venture was China's No. 1 passenger vehicle maker last year, with sales of 413,400, according to Xinhua.