BEIJING -- Beijing, the host city of the 2008 Olympic Games, saw its 246th blue sky in 2007 Monday, narrowly fulfilling its annual target of 245 by just one day more.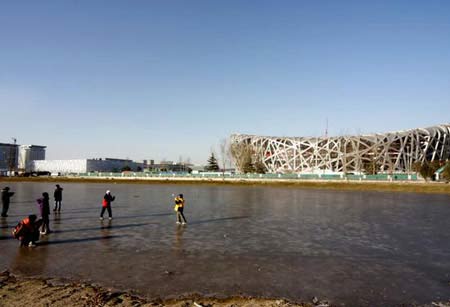 Beijing citizens take photos near the "Bird's Nest"- the Olympics National Stadium and "Water Cube"-the National Aquatics Center against the background of a clear sky on Sunday. A strong cold front dispersed a persistent fog since Friday and brought the city a much-awaited "blue-sky" day on Sunday, which means the capital city meets the target of 245 days with fairly good air quality, or two thirds of the year.[Xinhua]
A strong cold front dispersed a persistent fog Friday and brought the city a much-awaited "blue-sky" day since Sunday.
"We anticipated the last 'blue sky' day more than 10 days ago, but lingering fog and sandstorms frustrated us in the past week," said Du Shaozhong, deputy director of the Municipal Bureau of Environmental Protection. Du said he had been worried that the target would be missed.
The accomplishment means Beijing's air quality will have shown steady improvement for nine straight years. Last year, Beijing had 241 "blue sky" days.
As the Olympic Games near, Beijing has intensified its efforts to curb air pollution. The city planned to have 245 days with fairly good air quality in 2007, or two thirds of the total days.
Beijing had more "blue sky" days in January, September, October and November 2007 than in the corresponding months last year, according to statistics compiled by the environment watchdog.
Statistics also show that although the number of "blue-sky" days did not increase dramatically, there were also fewer extremely bad air days. Beijing recorded only three heavily-polluted days this year, in sharp contrast with last year's 13.
The capital launched a drive called "Defending the Blue Sky" in1998, when it only had 100 days of fairly good air quality.
The Olympic host city aims to have 70 percent of the days in 2008 up to the standard. "That means there should be at least 11 more 'blue sky' days," Du said.
Beijing has been working to reduce pollution and improve the air quality to ensure a "Green Olympics."
For example, the municipal government cut public transport fares in an attempt to lure local residents out of their private cars, which could cut auto emissions. The city also converted 18,000 outdated coal-fired boilers and installed electrical heaters in 20,000 detached houses, replacing coal-heated devices.
Beijing is also considering traffic controls during the Olympics, in which drivers with even- and odd-numbered license plates, except taxis, buses and emergency vehicles, would only be able to drive on alternate days. Offenders would be fined.
During a test of this proposal conducted from Aug. 17-20, about1.3 million cars were taken off the city roads each day and the amount of pollutants discharged was cut by 5,815.2 tons, according to a report by the Beijing Municipal Environmental Protection Bureau.